Belgium Selects the PIRANHA III for its Armoured Infantry Vehicle (AIV) Programme
Category: Defence Industry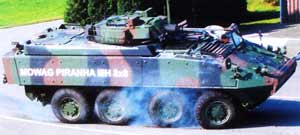 BRUSSELS, Belgium -- the Belgian Government announced that the MOWAG Piranha IIIC had been selected from five candidates for the delivery of up to 242 vehicles and related logistics support, with a total contract value of over $604 million (euro 500 million), for the Belgian Army`s Armoured Infantry Vehicle Program.
This sales success in Belgium represents the largest single order ever awarded from a European NATO member in the history of the Swiss technology-based company. Deliveries will commence in 2007 and will extend to 2015 for the total quantity including options.
In July 2005 the Belgian Ministry of Defence had announced the procurement Program for new Armoured Infantry Vehicle (AIV). This Program sets a corner stone to transform the Belgian Army into a lighter, more deployable, lethal, survivable, and sustainable force. Key requirements for the AIV included on- and off road mobility, crew comfort and safety, vehicle versatility, a high level of protection for the vehicle crews against mines and ballistic weapons, and integration of various weapon stations-, electronic warning and communication systems. With the worldwide operating Piranha IIIC 8x8, the technology-based company from Kreuzlingen, Switzerland offers a proven product, which fulfils this high-ranking requirement of protection, mobility, and mission flexibility.
Main vehicle sub-systems include the CMI 90mm Turret, the ELBIT 30mm Overhead Weapon Station, the FN Herstal ARROWS 12,7mm Overhead Weapon Station, all with OIP electro-optical aiming Systems, the THALES Belgium Communication System, Threat detection Systems for Lasers and Small Arms (OIP) and the Pearson Surface Mine Plough and Dozer Blade. A main focus was paid by MOWAG to offer a product with high commonality and compatibility within the AIV fleet itself, other vehicles of the Belgium Army and NATO countries. Piranha III 8x8 vehicles are in series production since 1997 and continuously developed to include the most modern technology available on the market.
A vast number of specific vehicle variants based on the Piranha III 8x8 have already been built for various customers including NATO and European Countries USA, Canada, Denmark, Spain, Ireland, Sweden and Switzerland including the variants specified by the Belgium customer thus giving the Piranha solution offered a very high production readiness. The 242 Piranha IIIC 8x8 will be delivered in seven variants to solve specific operational tasks: APC, C30 , Direct Fire Capability, Command Post, Engineering, Ambulance and Recovery. MOWAG`s CEO, Simon Honess stated: "We are extremely proud to have received this most significant award which we believe reflects the careful attention we paid to the requirements of the Belgian Army and to the Belgian national and regional objectives for industry and commerce, together with the capability and value for money represented by Piranha and its system support.
This now gives us the opportunity to serve the Belgian Army in a long term relationship, and together with the main Belgian Suppliers CMI, OIP, FN, THALES and other industrial team members, to generate industrial benefit across the diverse Belgian industrial base. This contract will also add further to the quantity of the latest specification of Piranha III vehicles in service with EU and NATO forces world wide, and will strengthen our market position." Delivery of the first 138 vehicles to the Belgian Army will take place from 2007 to 2012. Optional second and third batch vehicles would be delivered from 2012 to 2015.
Initial vehicles, MOWAG Driveline and Suspension systems and other components will be manufactured at MOWAG in Kreuzlingen, Switzerland with the follow-on hull welding and vehicle assembly being conducted at the facilities of the MOWAG partners Jonckheere and CMI in Belgium. The MOWAG proposal further includes a comprehensive Industrial Benefit Programme worth 100% of the contract value in Belgian value added combining direct work, semi direct effort as well as a significant commitment to other industrial sectors through indirect benefits. The program is proportionally balanced between Flemish and Wallonian companies and will span over the next 12 years.
More than 3000 Piranha III based vehicles are in service with or in production for NATO and European countries Denmark, Spain, USA, Canada, Ireland, Sweden and Switzerland. The "Piranha Group Europe" was formed in 2005 and it is anticipated that Belgium will now join this group as a future user of the Piranha vehicle.
Sergyi Wey
03.02.2006



www.army-guide.com
Share...





KONGSBERG CONCLUDES A $ 54 MILLION CONTRACT FOR THE DELIVERY WEAPON STATIONS TO CANADIAN ARMY
05.06.2020
Germany awards 159 MUSD vehicle contract to GDELS
24.04.2020
Switzerland awards contract to General Dynamics European Land Systems- Mowag to deliver 100 EAGLE 6x6 reconnaissance vehicles
06.12.2019
General Dynamics Land Systems–UK showcases adaptable Foxhound vehicle at DSEI 2019
23.09.2019
General Dynamics Land Systems - GDLS
General Dynamics Ordnance and Tactical Systems
General Dynamics European Land Systems-Mowag GmbH
General Dynamics Santa Barbara Sistemas
General Dynamics Armament Systems
General Dynamics Defence Systems
General Dynamics European Land Systems-Steyr GmbH
General Dynamics Armament and Technical Products (GDATP)
General Dynamics Amphibious Operations - GDAMS
General Dynamics Corp., Advanced Information Systems
General Dynamics Robotic Systems - GDRS
General Dynamics Land Systems - GDLS - Canada
General Dynamics European Land Systems - GDELS
Piranha III 6x6 (Wheeled armoured personnel carrier)
Piranha III 8x8 (Wheeled armoured personnel carrier)
Piranha III 10x10 (Wheeled armoured personnel carrier)
Piranha III 10x10 (Reconnaissance Vehicle)
Piranha III Kapris (Command vehicle)
Piranha III ASV (Reconnaissance Vehicle)
Piranha III REB (Armoured vehicle-launched bridge)
Piranha III CBRN (Nuclear/biological/chemical reconnaissance vehicle)
Piranha III+ (Wheeled armoured personnel carrier)
Discuss