Howitzer 2000 Tank Increases Range by More than 40 Percent
Category: Defence Industry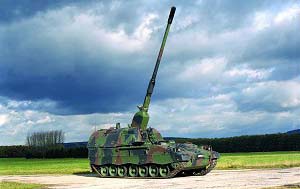 Howitzer 2000 Tank Increases Range by More than 40 Percent - Howitzer 2000 Tank fires V-LAP projectile more than 56 km - Successful test series in South Africa.
The Howitzer 2000 Tank fired the long-range V-LAP ammunition from DENEL over a distance of more than 56 kilometers during ammunitions tests in South Africa. This result was achieved with six DM72 propellant system modules. This new benchmark for the PzH2000 represents an increase of more than 40 percent compared to ranges of 40 kilometers previously achieved with base-bleed artillery projectiles. The performance certificate was arranged by the German Federal Office of Defense Technology and Procurement (BWB) on behalf of Krauss-Maffei Wegmann at the Alkantpan test range (South Africa). Site boundaries of the testing grounds limited the elevation to a maximum of only 737 mils. Based on sea level standard conditions, the system has a potential range capability of more than 60 km using an elevation of 980 mils. This capability extends the operational envelope of the Howitzer 2000 Tank as a classic 155 mm / 52 Cal. tube artillery weapon into the domain previously reserved for rocket artillery.
V-LAP Ammunition
V-LAP technology combines base drag reduction and rocket propulsion, and is deployed for both the Assegai and ERFB families of Denel 155mm Artillery projectiles. The V-LAP projectile shares an identical external interface with all other projectiles from each particular projectile family. VLAP projectiles use the identical fuzes, charges, packaging, storage and logistics that are required for the total projectile family.
The Assegai V-LAP projectile inlcudes an Insensitive warhead main filling as well as PFF (Pre Formed Fragmentation) warhead technology and is compatible with most 39-, 45- and 52-calibre artillery systems.
Howitzer 2000 Tank
The Howitzer 2000 Tank, a product of Krauss-Maffei Wegmann, is currently the most modern tube artillery system in the world. It is used by Germany, Greece, Italy, and The Netherlands, which is why the Howitzer 2000 Tank is also referred to as the Euro-howitzer. A superior technical concept makes this system so successful. The Howitzer 2000 Tank is characterized by a complete autonomy in navigation and fire control, high shooting cadence, and a previous range of more than 40 kilometers. A highly precise weapons aiming system and stable weapons platform enable a high cadence and precise striking position. The Howitzer 2000 Tank is an essential element of combat support, even in future application and crisis scenarios.
Krauss-Maffei Wegmann
19.04.2006

Share...





Multimillion-euro order from Hungary
02.10.2019
The Dutch armed forces select Rheinmetall to modernize their Bergepanzer 3 Büffel
17.05.2019
Krauss-Maffei Wegmann supports the modernization of the Hungarian Army
22.12.2018
Rheinmetall ships 200th Puma IFV to the Bundeswehr
05.06.2018
Krauss-Maffei Wegmann GmbH & Co.KG - KMW
PzH 2000 (Self-propelled howitzer)
PzH 2000 (Self-propelled howitzer)
Discuss