Stork and its partners receive the Boxer series production contract
Category: Contracts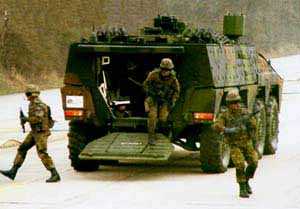 In the Bernardkazerne in Amersfoort, the Netherlands, the contract for series deliveries of the Boxer Multi-Role Armoured Vehicle to the Netherlands and German armed forces was signed. Total value for Stork EUR 0,5 billion.
The Boxer is a multi-role 'workhorse' which in the Netherlands will replace the YPR and M577 vehicles. The Netherlands army will use the Boxer in 5 different versions: an ambulance vehicle, command post, engineer vehicle, and two types of cargo vehicles.
The series production contract for the 272 vehicles for Germany and the 200 vehicles for the Netherlands represents a total value of EUR 1,2 billion out of which Stork will receive EUR 0,5 billion in the period 2008 to 2016. Up to 70% of Stork's turnover will be subcontracted.
The contract for Stork encompasses a continued design for 2 new Boxer versions, the series production of 200 Boxer vehicles in 5 versions and an initial in-service support package. The Boxer represents the new generation of 8x8 all terrain armoured utility vehicles. The concept of a drive module and an exchangeable mission module makes it a flexible military vehicle for a large range of assignments, providing the highest protection of its class.
The Boxer is designed to ensure maximum strategic and tactical deployability in a wide range of operational scenarios, and is the result of balancing the key military requirements of protection, mobility, payload and weight. The Boxer is able to operate in both high intensity conflicts and in rapid reaction peace support and humanitarian operations worldwide, offering improved capabilities and higher levels of performance than other vehicles on the market. The vehicle provides state of the art protection against landmines and has adaptable modular armour to defeat current and future threats in order to offer the highest protection for our soldiers.
The programme is managed by the multinational defence acquisition organisation OCCAR that was also in charge for the management of the development of the Boxer. The industrial contract partner is ARTEC GmbH - acting on behalf of the consortium formed by Kraus-Maffei Wegmann (36 %), Rheinmetall Landsysteme (14 %) and Stork PWV (50 %).
Manufacturing of the vehicles will take place in both countries.
Deliveries of the vehicles will start in 2009 and extend for seven years.
The Boxer is designed for an in-service lifetime of some 30 years.
Sergyi Way
25.12.2006



www.army-guide.com
Share...





£2.8bn armoured vehicle contract secured for British Army
11.11.2019
The Dutch armed forces select Rheinmetall to modernize their Bergepanzer 3 Büffel
17.05.2019
EOS launches new ultra light R150
08.09.2018
Australia Orders 211 Boxer Wheeled Armoured Vehicles
17.08.2018
Boxer GTK/MRAV/PWV (Wheeled armoured personnel carrier)
Boxer IFV (Infantry fighting vehicle)
Boxer BDR (Repair and recovery vehicle)
Boxer C (Ammunition resupply vehicle)
Boxer C2 (Ammunition resupply vehicle)
Boxer CPV (Control and command vehicle)
Boxer SPH (Self-propelled howitzer)
Boxer HEL (Fire support vehicle)
Discuss