U.S. Marine Corps Awards General Dynamics $144 M Expeditionary Fighting Vehicle Contract
Category: Contracts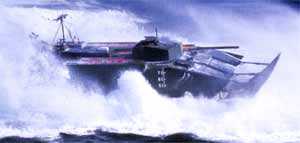 The U.S. Marine Corps Systems Command has awarded General Dynamics Land Systems, a business unit of General Dynamics, a $144 million contract modification for the continuation of the System Development and Demonstration (SDD) phase of the Expeditionary Fighting Vehicle (EFV) program. The contract funds the Design for Reliability (DFR) effort through September 2008.
This contract validates the efforts of the joint General Dynamics-U.S. Marine Corps Expeditionary Fighting Vehicle program office to achieve a reliable system that will allow the Marines to fulfill their expeditionary warfare mission well into the 21st century. General Dynamics Land Systems has solid customer direction and the funding to implement a plan to achieve the desired results.
The EFV Mission Essential Functions (MEFs) of land and water high speed maneuver, firepower lethality, communication systems, and the ability to carry a reinforced infantry squad and armor protection have been met and validated. Achieving reliability is the only remaining performance parameter before low rate production can begin, which is projected for 2011. General Dynamics is working very closely with the U.S. Marine Corps and remains committed to achieving the EFV reliability requirement at the earliest practical date.
Sergyi Way
21.03.2007



www.army-guide.com
Share...





Oshkosh Defense Receives Order for 248 Joint Light Tactical Vehicles
02.07.2020
KONGSBERG CONCLUDES A $ 54 MILLION CONTRACT FOR THE DELIVERY WEAPON STATIONS TO CANADIAN ARMY
05.06.2020
Germany awards 159 MUSD vehicle contract to GDELS
24.04.2020
Oshkosh Defense Receives $407.3 Million Order for Joint Light Tactical Vehicles
24.02.2020
General Dynamics Land Systems - GDLS
General Dynamics Ordnance and Tactical Systems
General Dynamics European Land Systems-Mowag GmbH
General Dynamics Santa Barbara Sistemas
General Dynamics Armament Systems
General Dynamics Defence Systems
General Dynamics European Land Systems-Steyr GmbH
General Dynamics Armament and Technical Products (GDATP)
General Dynamics Amphibious Operations - GDAMS
General Dynamics Corp., Advanced Information Systems
General Dynamics Robotic Systems - GDRS
General Dynamics Land Systems - GDLS - Canada
General Dynamics European Land Systems - GDELS
Discuss