MoD Signs GBP30 M Contract With DML
Category: Contracts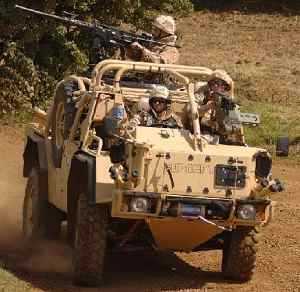 The Ministry of Defence today signed a GBP30 million contract with Plymouth-based DML for 130 weapon mounted patrol vehicles which will be used by troops in Iraq and Afghanistan.
The MWMIK vehicles (Mobility Weapon Mounted Installation Kit) will be built at the Devonport site and will be a considerable asset to troops on operations. With a top speed of 80 mph, they will offer increased mobility and protection.
The vehicle can be fitted with a range of firepower, including a .50 calibre machine gun or an automatic grenade launcher and a general purpose machine gun.
The MWMIK can carry up to four soldiers with their individual weapons, and can operate on a variety of terrains, including off road.
Lord Drayson, Minister of State for Defence Equipment and Support, said:
"These vehicles are well armed, swift, and agile. They will boost our capability with some serious firepower. MoD and the Treasury have worked hard to get these powerful vehicles to our troops in quick time, and they will start going out to theatre early next year."
UK MoD
06.09.2007

Share...





Discuss