KMW delivers 10 FENNEK to German Bundeswehr
Category: Defence Industry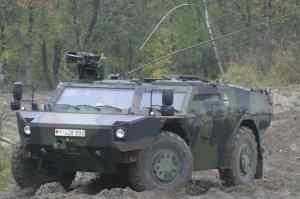 Krauss-Maffei Wegmann GmbH & Co KG (KMW) has been commissioned by the German Ministry of Defence to supply ten brand new FENNEK reconnaissance vehicles to the Joint Fire Support Teams (JFST) of the Armed Forces, resulting in a 31.3 million Euro deal for KMW.
Furthermore KMW has received a contract to deliver four highly protected DINGO 2 patrol verhicles to the Czech Republic. Next to Belgium, Germany and Austria, Czechia is now the fourth user nation that protects its soldiers with the DINGO 2. The contract also contains deliveries for training services and special tools.
"The importance of protection and mobility remains unaltered high for allied armed forces in todays hot spots. KMW's strategy is to expand its leading position in this business segment. Both contracts are herbey important steps with regard to the opening of new markets and new business opportunities", says Frank Haun, CEO of Krauss-Maffei Wegmann.
FENNEK Joint Foire Support Team
The Joint Fire Support Teams coordinate indirect fire from the army, the air force and the navy, thereby assisting each of the individual forces through efficient and tactical fire support. The FENNEK, with its low height and a minimised infrared and radar signature comes fully equipped with top-of-the-range reconnaissance systems. From an operational, economical and time management point of view, the FENNEK is most qualified as it is specifically designed to meet the armed forces' requirements and demands, now and in the future. A FENNEK vehicle is a defence system that is capable of undertaking the most demanding tasks in international conflict management. Proof of its ingenuity is the fact that FENNEK vehicles were deployed as artillery observer vehicles by the ISAF peacekeeping forces in Afghanistan in 2004.
The JFST version, a FENNEK vehicle developed and manufactured by Krauss-Maffei Wegmann and its subsidiary in the Netherlands, is equipped with an extraordinarily efficient observation and reconnaissance system with a very wide range so that targets can be located and identified during day or night time. The vehicle is also equipped to interact with the army, navy and the air force through voice and data link, and can therefore remain in direct contact with each of the three individual forces. A state-of-the-art laser designator enables the crew of the FENNEK to identify targets for the air force and guide laser-controlled missiles to their targets.
By adding the new JFST FENNEK to their fleet, the armed forces will have a vehicle at their disposal that is not only resistant to fire from hand-held weapons and anti-personnel mines, but that is also protected against nuclear, biological and chemical warfare. With a range of nearly 1000 kilometres, the three-man crew of the FENNEK is able to operate autonomously for a period of up to five days. In addition, thanks to its ability to be airlifted a FENNEK vehicle can be deployed in remote areas, quickly and smoothly.
The Corps of Engineers of the German and Dutch armies were equipped with the first JFST version vehicles in 2005. The ten new FENNEK vehicles will be delivered to the German Armed Forces by November 2009.
DINGO 2
The DINGO 2 provides, for up to eight persons, the best currently available level of protection in its class against modern small arms, shell splinters and shrapnel, anti personnel and anti tank mines and NBC weapons. Orders for more than seven hundred vehicles have already been placed by both Germany and a number of international reference customers, including Austria and Belgium. In addition the vehicle has proofed its outstanding protection in various military missions like in Bosnia, Kosovo, Afghanistan or Libanon.
The DINGO 2 in its amored personel carrier variant is also backed up by further variants such as the mobile command post, the AC detector version or the battlefield ambulance. All mission variants of the DINGO 2 provide the same outstanding degree of security and safety, i.e., maximum protection against ballistic, explosive and NBC weapons.
The DINGO 2's all terrain UNIMOG chassis permits top speeds of more than 90 km/h and a range of around 1000 km for all vehicle variants. All DINGO 2 versions can also be air transported in C160 Transall, C130 Hercules and A400M aircraft.
Krauss Maffei Wegmann
Krauss-Maffei Wegmann is Europe´s market leader for armored wheeled and tracked vehicles. At production sites in Germany, Greece, the Netherlands and the United States, a workforce of 2,800 manufactures and supports a product range extending from airportable and highly protected wheeled vehicles (MUNGO, DINGO and BOXER) to reconnaissance, air defense and artillery systems (FENNEK, GEPARD, short-range air defense systems, PzH 2000 and armored ground mobility vehicles) all the way to heavy battle tanks (LEOPARD 1 and 2), armored infantry fighting vehicles (PUMA) and bridgelaying systems (LEGUAN and PSB2). Moreover, KMW has comprehensive system expertise in the area of commercial and military simulation as well as command and control systems and remote-controlled gun mounts with reconnaissance and observation equipment for day-time and night-time missions. The armed forces of more than 30 nations worldwide rely on KMW´s operational systems.
KMW
28.11.2007

Share...





Multimillion-euro order from Hungary
02.10.2019
Krauss-Maffei Wegmann supports the modernization of the Hungarian Army
22.12.2018
Rheinmetall ships 200th Puma IFV to the Bundeswehr
05.06.2018
Lithuania boosts army with 88 BOXER vehicles
24.08.2016
Krauss-Maffei Wegmann GmbH & Co.KG - KMW
DINGO 2 (Wheeled armoured personnel carrier)
DINGO 2 (Repair and recovery vehicle)
DINGO 2 GSI (Repair and recovery vehicle)
DINGO 2 GSR (Reconnaissance Vehicle)
DINGO 2 HD (Wheeled armoured personnel carrier)
Discuss