India will rebid artillery gun buy
Category: Defence Industry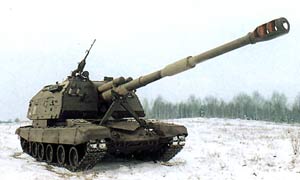 The Indian government will rebid the $1.54 billion purchase of 280 155mm self-propelled tracked and wheeled artillery guns in two to three months, Ministry of De fence (MoD) sources said.
Officials with the ministry and the artillery directorate objected to the acquisition process used by the previous National Democratic Alliance government.
In the last three months, artillery officials have complained that the use of a single vendor, South Africaís Denel, has elevated the price of each gun to about $5.5 million, sources said. In 2000, Russiaís Rosoboronexport offered to sell India 155mm MSTA 52-caliber guns for about $2.2 million apiece, but India declined even to subject the guns to formal trials.
An MoD source said the brushoff, which irked Moscow, is among the reasons that no arms sales were agreed during Russian President Vladimir Putinís November visit here ó the first such visit that failed to produce a deal.
A Rosoboronexport executive did not specifically comment on this but admitted that Russia is concerned that its Indian market may shrink.
India is negotiating to buy Smerch multibarrel rocket launchers, Tu-22 backfire bombers and nuclear submarines from Russia, but Russia so far has not formally agreed to a sale.
India plans to acquire around 1,600 155mm guns for its artillery regiments in the next 15 years.
The MoD official said 100 155mm self-propelled tracked guns are being acquired. For a year, the Army has been testing guns from Bofors successor Swedish SWS Defence, Israelís Soltam Systems and Denel.
But only Denel is being considered for a batch of 180 155mm self-propelled wheeled guns, a program in limbo since 2002.
Retired Army Maj. Gen. Mahindra Singh said the controversy must be resolved to allow India to get a good price on foreign-made guns.
Streamlining the Arsenal
The 155mm guns will streamline logistics and operations by replacing older, worn-out weapons of other calibers. The list includes 1980s-vintage 155mm FH 77B Bofors guns and many older Soviet weapons, including 130mm guns, 122mm Grad Multiple Launch Rocket Systems, 105mm Indian field guns, 105mm Indian light guns and 100mm anti-tank guns.
India decided to go with 155mm guns after their decisive role in the 1999 Kargil battle with Pakistan, an artillery official said.
Share...





Prominent presence in Poland for Denel
07.09.2017
More CASSPIRS Ready For Delivery To African Client
25.07.2017
Denel To Highlight Its Capabilities At Top Middle Eastern Defence Show
01.02.2017
First Batch Of Denel Vehicles Shipped To UAE Client
24.08.2016
LIW, a division of Denel (Pty) Ltd
Kentron (division of Denel (Pty) Ltd)
ROSOBORONEXPORT, State Corporation
Somchem Division of Denel (Pty) Ltd
Swartklip - a division of Denel
Pretoria Metal Pressings a Division of Denel (Pty) Ltd. - PMP
Rheinmetall Denel Munition (Pty) Ltd - RDM
2S19 MSTA-S (Self-propelled gun)
2S19M1-155 MSTA-S (Modernization of the vehicle)
2S33 MSTA-SM (Self-propelled gun)
Discuss