Thales launches Bushmaster Copperhead utility vehicle at Eurosatory
Category: Exhibitions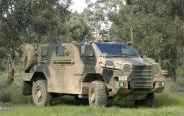 Thales is pleased to announce the launch of its armoured combat support vehicle, known as Bushmaster Copperhead, at the Eurosatory defence exhibition in Paris, France...
...This Utility or 'Ute', to use the Australian slang, is a 4-wheel drive cab chassis protected logistic vehicle that can carry a 4,000 kg load on its 9.4m2 tray. It also provides crew the protection, mobility and combat flexibility to fulfil the ever growing mission needs in demanding situations encountered by military forces around the world.
The Bushmaster Copperhead is the latest addition to the Bushmaster Family of Vehicles (FOV), and uses the same single shell V-shaped hull to provide protection against mine blast and improvised explosive devices (IED). This technology is enhanced by upgradeable ballistic protection options to the crew cabin and a protection system already operationally proven in Iraq and Afghanistan.
A cruising speed of 100 km/h, maximum range of 800 km, high clearance for obstacles and river crossings, tight turning circle, plus the capacity to go off road in all conditions, give Bushmaster Copperheads the ability to safely carry personnel, supplies and equipment to any frontline in any environment.
However, what makes the vehicle truly unique is the combination of protection systems and tactical mobility while carrying a substantial load.
Backed by an international supply chain, mechanical components are selected for their global availability, and are common with Bushmaster while providing Thales the ability to offer worldwide Through Life Support (TLS). Thales is always looking at innovative support packages to reduce the customer's risk while tailoring TLS packages to meet the their specific needs.
"Australians have always had a fascination with the Ute and its unique body style. These vehicles have been extensively used on farms and construction sites across Australia for the last 75 years,"
said Chev Viviers, Chief Engineer for Bushmaster Copperhead. "It is the ruggedness, durability and functionality of the Ute that inspired the design of Bushmaster Copperhead."
Chris Jenkins, managing director of Thales in Australia, said: "The Copperhead marks a significant achievement for Thales Australia's design and construction team. Utilizing technologies, design elements and components already operationally proven, we have been able to construct a brand new vehicle that fulfils an operational requirement for the military. The latest addition to the Bushmaster family of vehicles offers enhanced safety features while increasing the operational capability of the armed forces".
Thales
18.06.2008

Share...





TEMPORARY COMPANY GROUPING EBMR MEETS ITS DELIVERY OBJECTIVES FOR 2019
14.01.2020
Rheinmetall Presents Next Gen "Wiesel Wingman" solution for Robotic Combat Vehicle – Light at AUSA 2019
04.11.2019
THALES AUSTRALIA AND GENERAL DYNAMICS ORDNANCE AND TACTICAL SYSTEMS DELIVERING FOR THE ADF
12.06.2019
The Dutch armed forces select Rheinmetall to modernize their Bergepanzer 3 Büffel
17.05.2019
Thales Raytheon Systems France
Thales Optronics (Taunton) Ltd
Thales Training & Simulation (USA)
Bushmaster (Wheeled armoured personnel carrier)
Bushmaster ACSV (Wheeled armoured personnel carrier)
Bushmaster IMV (Mine clearing vehicle)
Bushmaster Chain Gun (Machine gun)
Bushmaster MR6 (Wheeled armoured personnel carrier)
Discuss