Elbit Systems of America, LLC Unveils its Next Generation Tacter®-31D Rugged Dismountable Vehicular Computer at AUSA Winter 2009
Category: Exhibitions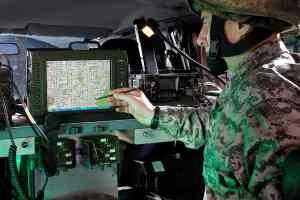 FORTH WORTH, TEXAS -– Elbit Systems of America, LLC, a wholly owned subsidiary of Elbit Systems Ltd., introduces its next generation Tacter®-31D rugged dismountable vehicular computer platform and the new 10.4" rugged display at Elbit Systems of Americas booth #123 at the AUSA Winter 2009 exhibition in Ft. Lauderdale, Florida, February 25 – 27.
The Tacter®-31D offers a brilliant daylight-readable 10.4" display, powered by an Intel® Core 2 Duo processor and powered by hot-swappable Li-Ion Smart Batteries. The simple operation of a latch releases the Tacter®-31D for dismounted use. When returning to the vehicle, the user simply places the Tacter®-31D tablet computer into the vehicle docking system and all interfaces attach for use. The Tacter®-31D is designed for comfortable use and ease of operation. Eight programmable function keys make it an ideal platform for custom applications. With a press of a button, the unit enters night mission mode and the screen dims to accommodate night vision goggles. The unit will be available with embedded military SAASM or commercial GPS, as well as a radio interface and wireless communication options.
The RD-104 rugged display is an addition to existing platforms or dismounted computer systems. By mounting the display and attaching the cables, the RD-104 becomes a daylight-readable touch-screen display interface for systems. This extends the usefulness of information on the computer system to other users, passengers in the vehicle or to remote computer operations. The RD-104 can be connected to a personal computer quickly and conveniently. The RD-104's features include a remote zeroize button, a power button, additional USB ports and other interfaces that broaden existing computer's utility into new missions.
"We are very excited about these two new computer solutions, said Jim English, Vice President of C4I Solutions for Elbit Systems of America. We believe the new Tacter®-31D is the most advanced vehicular mounted/dismounted military computer featuring a tablet configuration, thus enabling to share image or Command and Control information on a platform away from the work station. Being able to attach the Tacter®-31D to another station in the vehicle allows additional people to share the information and serves as an added value to combat echelons in the rapidly evolving world of the new modern digital battlefield."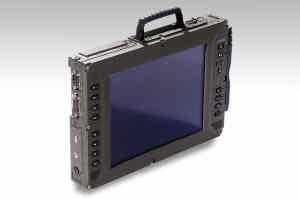 About Elbit Systems of America, LLC
Elbit Systems of America is a leading provider of high performance products and system solutions focusing on the commercial aviation, defense, homeland security, and medical instrumentation markets. With facilities throughout the United States, Elbit Systems of America is dedicated to supporting those who contribute daily to the safety and security of the United States. Elbit Systems of America, LLC is wholly owned by Elbit Systems Ltd. (NASDAQ: ESLT), a global electronics company engaged in a wide range of programs for innovative defense and commercial applications.
About Elbit Systems
Elbit Systems Ltd. is an international defense electronics company engaged in a wide range of defense-related programs throughout the world. The Company, which includes Elbit Systems and its subsidiaries, operates in the areas of aerospace, land and naval systems, command, control, communications, computers, intelligence surveillance and reconnaissance ("C4ISR"), unmanned air vehicle (UAV) systems, advanced electro-optics, electro-optic space systems, EW suites, airborne warning systems, ELINT systems, data links and military communications systems and radios. The Company also focuses on the upgrading of existing military platforms and developing new technologies for defense, homeland security and commercial aviation applications.
Elbit Systems
25.02.2009

Share...





Discuss