Lockheed Martin UK To Unvell Innovative New Vehicle Design At DVD
Category: Exhibitions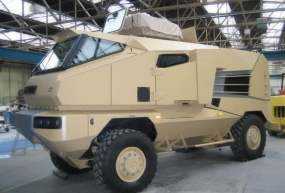 Lockheed Martin UK will unveil a new approach to military vehicle design at this year's DVD event when it displays AVA-1, its first prototype vehicle to be produced using the Lockheed Martin Adaptive Vehicle Architecture (AVA).
Primarily designed and developed in the UK, the prototype vehicle has the potential to meet several emerging UK requirements. Six metres long and weighing in at 12,000kg, the vehicle also features a modified V-shaped hull which is as survivable as the Mine Resistant Ambush protected (MRAP) platforms while having greater mobility and sprint speeds.
The AVA concept offers potential users the same chassis components in different configurations, allowing for commonality across a fleet with the ability to customise individual vehicle role specification.
"This vehicle has superb on and off-road capability, has a minimal turning circle and a sprint speed in excess of 50 mph as well as MRAP standards of protection," said Scott Lustig, director for Land Vehicle Systems. "AVA-1 is not intended to address a specific current requirement, but to generate interest and see where the customer wants Lockheed Martin technology to go."
AVA-1 is the first in a family of vehicles Lockheed Martin intends to build, including 4x4 and 6x6 variants adaptable to a range of roles including flatbed transporters, troop carriers and scout vehicles.
Lockheed Martin UK will also be displaying its Land Environment Air Picture Provision (LEAPP) solution, its Joint Asset Management Engineering Solution (JAMES) system and its newly-developed Kudos force protection system at the DVD show on June 25 and 26.
Lockheed Martin UK, a unit of Lockheed Martin Corporation, is a leader in systems integration working on major programmes spanning the aerospace, defence and civil sectors. Lockheed Martin works with more than 100 business partners and employs over 1700 people at 12 sites across the UK.
Headquartered in Bethesda, Maryland, Lockheed Martin employs about 140,000 people worldwide and is principally engaged in the research, design, development, manufacture, integration and sustainment of advanced technology systems, products and services. The Corporation reported 2007 sales of $41.9 billion.
Lockheed Martin
09.07.2009

Share...





General Dynamics Land Systems–UK showcases adaptable Foxhound vehicle at DSEI 2019
23.09.2019
U.S. Army Places $100.1 Million Order For 258 Joint Light Tactical Vehicles
23.12.2017
The Finnish army is testing a new MiSu armored vehicle
15.12.2017
OSHKOSH DEFENSE DISPLAYS THE NEXT GENERATION OF LIGHT VEHICLES WITH UNMATCHED MOBILITY AND TRANSPORTABILITY
13.12.2017
Lockheed Martin Electro-Optical Systems
Lockheed Martin Vought Systtems Corporation
Lockheed Martin Missiles and Fire Control
RG-33 MRAP II (Mine protected carrier)
Cougar MRAP (Mine protected carrier)
Caiman MRAP (Mine protected carrier)
LAZAR BVT 8808-SR MRAP (Mine protected carrier)
MRAP-VVT (Crew training simulator)
Sherpa Medium MRAP (Mine protected carrier)
Discuss