OTT M22TL 4X2 Armored Personnel Carrier on DSEi
Category: Exhibitions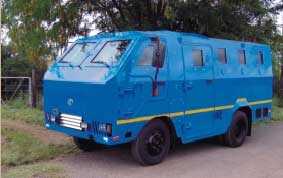 OTT Technologies (Pty) Ltd trading as OTT Armoured Vehicles developed a cost effective 4x2 drive armoured personnel carrier (APC) to drive down the costs of homeland security operations without compromising quality and crew survivability.
The M22TL is based on a Hino Series 300 815 commercial truck chassis and can be repaired and services by any Hino dealer. This in itself drives the life costs tremendously downwards. The M22 TL carries a total crew of 12 including driver and commander and has crew and engine ballistic protection of Level B6+ (7,62 x 51mm NATO Ball and 5,56 x 45mm NATO Ball. The floor is protected against hand grenades and handguns.
Due to its compact size and manoeuvrability he M22TL the M22TL is ideally suited for urban police and security operations. The M22TL is in production.
OTT Technologies
09.09.2009

Share...





General Dynamics Land Systems–UK showcases adaptable Foxhound vehicle at DSEI 2019
23.09.2019
Otokar offers solutions with technology transfer and local manufacturing models
13.09.2019
General Dynamics Land Systems–UK Will Deliver Innovative State-of-the-art Training Solutions for the AJAX Programme
14.09.2017
General Dynamics Land Systems–UK Showcases EAGLE Platform Ahead of MRV-P Programme Trials
14.09.2017
Discuss