ST Kinetics Broncos And Total 40mm Solutions At DSEi 2009
Category: Exhibitions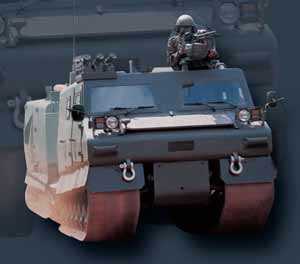 London -- ST Kinetics is displaying the successful Bronco All Terrain Tracked Carrier (ATTC), on which the WARTHOG all terrain vehicle is based, at Defence Systems & Equipment International (DSEi) 2009, London, UK.
Two Bronco ATTCs - a troop carrier and a logistics version - will be on show at ST Kinetics' stand 1357. The troop carrier is fitted with the Platt Protected Weapons Station and bar armour. The logistics variant features a Demountable Rack Offload and Pickup System (DROPS) style off-loadable rack on the rear.
In December 2008, more than 100 Bronco vehicles, designated WARTHOG by the UK MOD, were bought from ST Kinetics in a deal worth over £150M. The first vehicle will be with the UK MOD from the end of 2009. Dubbed "The Beast", it will provide enhanced performance and protection for troops in Afghanistan.
~TOTAL 40MM SOLUTIONS
Also showcased at DSEi is the ST Kinetics' TOTAL 40MM SOLUTIONS, comprising grenade launchers and a family of high and low velocity 40mm ammunition and payload systems. Such solutions range from 40mm High Explosive, Flash & Bang and training rounds as supplied to the UK MOD, to the Soldier Parachute Airborne Reconnaissance Camera System (SPARCS), air bursting, self-destruct, enhanced blast and insensitive munitions rounds.
SEW Chee Jhuen, President, ST Kinetics, said: "At DSEi 2009, ST Kinetics is particularly proud to showcase the Bronco, an all terrain vehicle whose WARTHOG variant will soon be fielded by the UK MOD for operations in Afghanistan. With class-leading payload, capacity and protection, the proven and cost effective platform will greatly enhance operational effectiveness."
Notes:
1. WARTHOG - the WARTHOG is a variant of ST Kinetics' Bronco All Terrain Tracked Carrier, a robust and proven articulated platform with an unsurpassed payload of more than 5 tons. The platform's articulated design delivers exceptional mobility across a wide range of terrain and climate, and is extensively armoured and highly survivable.
2. Fielded in 2001, the Bronco ATTC has enhanced its users' effectiveness through better all-terrain mobility, higher protection, greater payload and increased efficiency while meeting the rigorous demands of modern warfare.
3. TOTAL 40MM SOLUTIONS - ST Kinetics' 40mm payload systems provide the soldier with an unrivalled range of terminal effects from a wide array of grenade launchers. ST Kinetics prides itself as one of the world's leading provider of 40mm solutions, offering various 40mm grenade launcher systems and an unparalleled range of 40mm ammunition. This includes high and low velocity, high explosive, enhanced blast, self-destruct, air bursting, surveillance, insensitive and less-than-lethal rounds.
ST Kinetics
09.09.2009

Share...





General Dynamics Land Systems–UK showcases adaptable Foxhound vehicle at DSEI 2019
23.09.2019
Otokar offers solutions with technology transfer and local manufacturing models
13.09.2019
Kongsberg and Milrem Robotics Showcase a Robotic Antitank and HMG System at AUSA
14.10.2018
SAIC Announces Teaming Agreement with ST Kinetics and CMI Defence to Develop Ground Combat Vehicle Prototype
08.10.2017
Bronco (Tracked armoured personnel carrier)
Bronco (Ammunition resupply vehicle)
Warthog (Robot, Unmanned Vehicle)
Discuss