Force Protection Europe Rolls Out Ocelot Vehicle at DSEI
Category: Exhibitions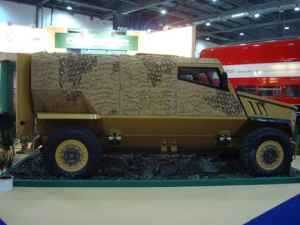 Force Protection Europe, Limited – a wholly owned subsidiary of Force Protection Industries, Inc., today debuted a new class of light protected patrol vehicle, the Ocelot, at the Defense Systems and Equipment International (DSEI) exhibition in London. The Ocelot was designed specifically to meet the requirements for the UK's Light Protected Patrol Vehicle (LPPV) program.
Reliability, adaptability and protection levels similar to the renowned Force Protection Mastiff are all traits of the Ocelot, which has been designed by Force Protection Europe and Ricardo plc, a UK based automotive engineering company.
"By designing from a clean sheet we have adopted a novel design which is a complete departure from the standard practice of basing mine resistant vehicles on a standard chassis design," said David Hind, Managing Director of Force Protection Europe. "We are confident that the design of Ocelot means it not only meets today's blast resistance requirements but those expected in the future. Ocelot exceeds the required mine protection level set for the UK MoD Light Protected Patrol Vehicle, while still meeting the targets for mobility, payload, size and gross vehicle weight."
David Hind said, "The expertise of Ricardo in designing and optimising vehicles and Force Protection's expertise in survivability solutions has resulted in what we believe will be the premier mine resistant vehicle needed to protect troops in theatres such as Afghanistan. Ocelot's independent suspension system offers excellent mobility over rough terrain. "
Based on a modular design with a core automotive armored spine or "skateboard" the vehicle has a composite special-to-role pod. These roles include patrol and fire support or protected logistics vehicle, while the pod can easily be changed in the field as the need requires.
The composite pod has been designed to be interchangeable. In the patrol vehicle there is seating for two crew and four dismounts. Access to the vehicle is through large rear doors, two top hatches or if required an oversize commander's door. The V-shape design results in the running gear not intruding into the crew area making movement from front to back easy and also reducing the threat to the occupants in the event of an attack. Bulkheads between vehicle crew and dismounts and between them and the vehicle electronic equipment such as radios and electronic counter measures give added protection.
Ocelot is a 71/2 ton vehicle which can be transported in a C-130 or under a Chinook. It has four wheel steering giving it a market leading turning circle of 39 feet and has a low center of gravity as all the heavy items are contained within the skateboard. It is 17 feet long, 8 feet high and 7 feet wide.
Michael Moody, Chief Executive Officer of Force Protection, commented, "Ocelot is an entirely new class of vehicle. Force Protection and Ricardo have worked together to design a vehicle built specifically in response to the requirements of the UK LPPV program. However, we believe that there are opportunities for lighter, highly mobile vehicles that provide MRAP levels of protection both in the United States military as well as internationally."
About Force Protection Europe Limited
Force Protection Europe is a wholly owned subsidiary of Force Protection Industries, Inc., a leading provider of survivability solutions. Force Protection's Cougar MPRAP vehicles, in service with the British Army as Mastiff, Ridgback and Wolfhound, are acknowledged globally as providing the highest levels of blast protection. Force Protection Europe has been established to create a UK leader in the provision and sustainment of survivability solutions based on tactical wheeled vehicles, including the innovative new lightweight mine resistant vehicle, Ocelot.
Force Protection
09.09.2009

Share...





Rheinmetall MAN Survivor R special protected vehicle on show at GPEC 2020 international security exhibition in Frankfurt/Main
24.02.2020
General Dynamics Land Systems–UK showcases adaptable Foxhound vehicle at DSEI 2019
23.09.2019
Otokar offers solutions with technology transfer and local manufacturing models
13.09.2019
The Dutch armed forces select Rheinmetall to modernize their Bergepanzer 3 Büffel
17.05.2019
Ocelot LPPV/Foxhound (Mine protected carrier)
Discuss