Team Z`s radical Zephyr SRV makes world market debut at DSEi
Category: Exhibitions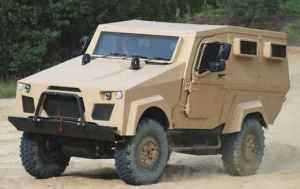 `Team Z`, the collaborative alliance set up between leading military vehicle design and engineering house, Creation - and defence manufacturer and through-life support specialist, Babcock, is using DSEi at London`s ExCel for the world market debut of its radical new Zephyr armoured vehicle programme.
The new Zephyr SRV (Specific Requirements Vehicle) is an all-new protected vehicle platform based on modular principles to provide high survivability, multi-role operational flexibility - and optimum mechanical and logistics serviceability. A variant of the Zephyr SRV is being put forward as part of the Creation / Babcock 'Team Z' joint bid to win the imminent UK MoD UOR contract for the design and build of a new Light Protected Patrol Vehicle (LPPV), to replace the current in-service 'Snatch' Land Rover.
A Zephyr SRV package is also planned for submission for part of the Australian Land 121 'Overlander' programme and the Canadian Tactical Armoured Patrol Vehicle (TAPV) requirement. The companies have a further variant prepared for the now delayed OUVS (Small) competition, for which Babcock was down-selected last year.
A central feature of the Zephyr SRV design is the inclusion of a composite 'occupant survival cell'. Surrounding protection includes a V-form belly plate and an integral blast mitigation system. Protection is specified for minimum STANAG 4569 level 2 mine protection and level 2-3 KE protection. Fragment protection is taken to level 4. Zephyr SRV is also able to carry a range of roof-mounted options, including protected or remote weapons stations (RWS).
The vehicle has been designed to meet worldwide deployment criteria – A1-C1 operating – and A1-C2 for storage. The unit is also specified for climatic conditions A2-C1 (+56ºC to -32ºC) for storage – and down to C2 extreme at -56ºC for operations. The Zephyr SRV is configured for air transportability within C130 and above – or underslung below CH47. Mobility is designed to meet and exceed IMMLC at a gross vehicle weight of 7500kg – with an effective payload capability of 2500kg, assuming standard designed protection levels.
The vehicle envelope is designed to accommodate a range of powertrain options, dependent on end user specification. The initial Zephyr SRV has been developed to incorporate a rapid access and removal 'cassette' mounting for the engine – to facilitate removal and replacement, automatic transmission and both centre and final drive locking differentials. Independent height adjustable suspension is included to adapt ground clearance, ride and handling to suit operating conditions.
Throughout the programme, Creation and Babcock have worked closely together to ensure that the design is fully productionised to meet high volume requirements. Initial build is planned for multiple units per week - with a fulfilment for 400 vehicles within twelve months. Further production engineering will accommodate overseas customer requirements for specified levels of local build and content. The package is designed also to be fully supportable in service – and in theatre if required.
The vehicle envelope can be configured for a wide range of operational roles, body types and specialist applications such as pick-up utility vehicle, troop carrier, command and control, Weapons Mounted Installation Kit (WMIK), reconnaissance and battlefield ambulance. A 6x6 variant is also planned.
Crew and seating layouts can be varied from two to eight occupants, to suit operational requirements. Space is also allocated for weapons fit, communications suites, situational awareness (SA) systems and other electronic devices – inline with LPPV and other comparable requirements. Additional features include fully integrated Health and Usage Monitoring Systems (HUMS) and the capability to support exportable power requirements.
"The formation of 'Team Z' has brought together the combined strengths and capabilities of two companies with an unique and in-depth experience of the sector and its requirements. This will significantly add value both to the programme – but also ultimately, for the customer and end user. We are very pleased to be working with Babcock to compete for the UK MoD's LPPV requirement and other international programmes. The Zephyr SRV concept is designed to do exactly what it says – meet the specific requirements of the end user – and we see the future of the Zephyr programme potentially as a world market product", says Creation Managing Director, Bill Davis.
Babcock Equipment Solutions Managing Director, Roger Gillespie says, "We are delighted to be working with Creation on the new Zephyr SRV vehicle. This versatile design will provide the basis for both our joint LPPV bid, and also for our OUVS (Small) submission for which Babcock was short-listed last year. Close working and collaboration with industry partners and the MoD is key to delivering battle-winning vehicles to the front-line, on-time and cost-effectively."
The new Zephyr SRV vehicle is displayed by Creation within in the UK Pavilion at DSEi – on Stand 757. The Babcock display at DSEi is on Stand 177.
Creation
22.09.2009

Share...





ARMATA MBT - problems 2020
24.12.2020
BMPT Terminator will receive a remote blasting ammunition
07.06.2018
In Russia conducted winter tests of Combat UGV
21.03.2018
Huge potential for KONGSBERG in Qatar
14.03.2018
Zephyr SRV (Wheeled armoured personnel carrier)
Discuss