Codan introduces new Commander system
Category: Exhibitions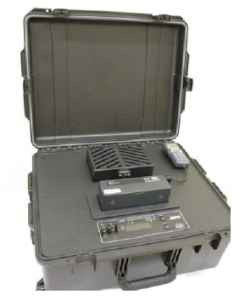 Washington, DC (AUSA, Booth #4345) -- Codan (ASX-CDA) announced the general availability of the Codan MRZ Commander system. The announcement was made at the Association of the United States Army (AUSA) trade show in Washington, DC.

The Codan MRZ Commander system is an innovative rapidly-deployable communications systems designed to support robust high-frequency (HF) voice and data communications for a wide range of platform needs including headquarters, mobile and ground applications.
"Protection and security operations around the globe have evolved modern doctrine to engage ground threats imposed by insurgent forces and the types of weapons utilized within these hostile theatres." said Andrew Sheppard, vice president and general manager, Military and Security Division, Codan U.S. Inc. "The MRZ Commander system addresses these types of threats by providing rapid, real-time Command & Control (C2) communications to extend radius of operation for deployed operations."
The MRZ Commander system provides a fully ruggedized 125-Watt HF radio housed inside a standard 'Pelican' case, and is the first battery-operated, high-power, light-weight HF system in the world. The MRZ Commander system is self contained and easily configured for operation – an operator simply connects the MRZ Commander system to power and antennas, and communicates. The MRZ incorporates a unique capability that enables rapid installation and transfer between static and ground-based platforms to mobile with the ability to operate from a standard vehicle 12-V accessory interface.
Weighing only 50 lbs including batteries, the MRZ is easily carried onto an aircraft and provides a global interface to both DC (9-36V) and AC (100-240V, 50-60-Hz). Included in the MRZ package are lithium-ion rechargeable batteries which provide additional flexibility and the ability to operate up to 6-hours off one charge. With compliance to MIL-STD-188-141B ALE (JITC Certified), FED-STD-1045 ALE/CALM, STANAG-4539, MIL-STD-110B data (with modem), the MRZ Commander system supports frequency hopping, and communications security options.
The MRZ Commander system announcement follows the launch in September 2009 of the Codan MRX Headquarters system. Both systems allow communicators to quickly and easily consolidate encryption, frequency, modes of operation, and procedures to successfully 'cross-pollinate' radio networks.
AT Communication
06.10.2009
at-communication.com
Share...





AT Communication is pleased to announce the expansion of its Tactical range of transceivers with the launch of the Sentry-H™ High Frequency (HF) SDR radio
22.09.2016
AT Communication is pleased to announce the launch of the AT SA Situational Awareness Terminal
11.06.2016
AT Communication International establishes US Headquarters in Rochester, New York
23.04.2016
AT Communication is pleased to announce the AT GNSS-01 Multi System GPS Receiver
28.11.2015
Discuss