Omsk hosts international military weapons and technologies exhibition
Category: Exhibitions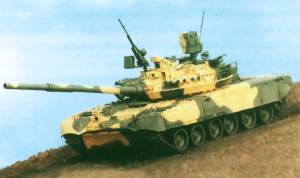 The 6th international exhibition of military equipment, technologies and weapons for ground forces, VTTV Omsk 2005, opens in Omsk, West Siberia, on Tuesday.
It will also present civilian conversion products, such as science-driven technologies, new materials and high-capacity equipment.
The Omsk exhibition is the world's largest military show with over 200 Russian and foreign participants, the region's main department for press, broadcasting and mass communications reported.
The riding and firing qualities of the exhibits will be demonstrated at a testing ground in the region. This will be the most spectacular part of the event, the organizers say, and will be broadcast live by satellites to over 30 countries.
The immobile exposition will take place in the new exhibition center Kaskad, in central Omsk. The area of the exposition is about 6,000 sq m.
The zest of the event will be the Kosmos 3M light launch vehicle (made by the Omsk-based Polyot plant), which will be shown for the first time after modification. The vehicle, whose nose was broadened, has been dubbed "the dolphin".
On the sidelines of the exhibition the 3rd International Technological Congress "Military Equipment, Weapons and Dual-Use Technologies" will take place.
The organizers expect that the exhibition will be visited by some 100,000 people and about 40 foreign delegations, which will come with business purposes.
"The experience of previous exhibitions has shown that regional exhibitions provide unique opportunities for a majority of our enterprises to fully demonstrate their products and capabilities," said Omsk region governor Leonid Polezhayev in the run-up to the opening of the show, which will be held on June 7-11.
The exhibition is held once in two years. The first one was organized in 1996 and became one of the first such events in Russia.
RIA Novosti
07.06.2005

Share...





ARMATA MBT - problems 2020
24.12.2020
Problems of Russian land military vehicles with diesel engines
24.12.2020
Counterfeit aero engines threaten international aviation security
08.02.2019
Problems of Russian Vacuum APFSDS-T projectile
25.01.2019
ARMS Russian Defence Technologies
Jordan Russian Electronics Systems Co - JRESCO
Russian State Scientific Center for Robotics and Technical Cybernetics - TsNII RTC
Government fund of funds Development institute of the Russian Federation - RVC
Discuss