Force Protection to brief on Ocelot at International Armoured Vehicles 2010 exhibition
Category: Exhibitions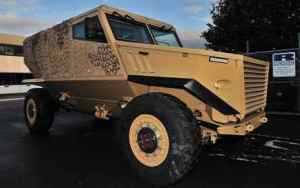 Visitors to the Force Protection stand (no.420) at the International Armoured Vehicles 2010 exhibition will be able to receive technology briefings on Ocelot, the new light protected patrol vehicle designed, developed and funded by Force Protection and Ricardo plc.
Since the middle of 2009 Ocelot has been put through an extensive series of blast and ballistic testing at Force Protection's own blast range in the US. In addition automotive trials have been conducted at the Millbrook Proving Ground in the UK and the Ricardo facility in Shoreham. This series of tests has demonstrated the effectiveness of Ocelot's unique 'skateboard' armoured spine configuration and pod design in terms of both survivability and mobility.
Ocelot's highly versatile design enables a range of special-to-role pods to be mounted on the skateboard. The pods, which can be easily changed in the field as the need arises, have been designed for roles such as patrol, fire support or protected logistics. Four wheel steering is common to all configurations and the vehicle can be transported in a C-130 or underslung from a Chinook.
David Hind, Managing Director of Force Protection Europe, said, "The next generation of protected vehicles must meet a range of stringent demands. High levels of survivability and repairability must be combined with manoeuvrability, the flexibility to perform a number of roles, easy maintenance and light weight. Ocelot is equally suited to operations in desert, jungle, mountainous or urban environments. While non-threatening in appearance, it provides levels of protection never before achieved in a vehicle of this size and weight. We firmly believe Ocelot will meet the global need for a new class of light protected patrol vehicle".
Force Protection will also be briefing on the Buffalo route clearance vehicle and the Cougar MRAP. Now in highly successful service with the US Army, Buffalo is the most advanced mine protected clearance vehicle in the world, with a 'V' shaped monohull chassis that directs the force of the blast away from the occupants, and with a large articulated arm for ordnance interrogation and disposal. The vehicle can be configured for multiple missions and is specifically designed to be repaired in the field. Renowned for its outstanding survivability performance in Iraq and Afghanistan, the Cougar is in service with a range of militaries, including Canada, Hungary, Italy, Poland, United States and the UK.
Force Protection
25.01.2010

Share...





Rheinmetall MAN Survivor R special protected vehicle on show at GPEC 2020 international security exhibition in Frankfurt/Main
24.02.2020
General Dynamics Land Systems–UK showcases adaptable Foxhound vehicle at DSEI 2019
23.09.2019
The Dutch armed forces select Rheinmetall to modernize their Bergepanzer 3 Büffel
17.05.2019
BAE Systems awarded Armored Multi-Purpose Vehicle contract modifications by U.S. Army for Low-Rate Initial Production
24.02.2019
Cougar (Wheeled armoured personnel carrier)
Cougar H 4x4 (Mine protected carrier)
Cougar MRAP (Mine protected carrier)
Ocelot LPPV/Foxhound (Mine protected carrier)
Cougar (Wheeled armoured personnel carrier)
Discuss