iRobot Announces Defense & Security Orders Totaling $7.2 M
Category: Robots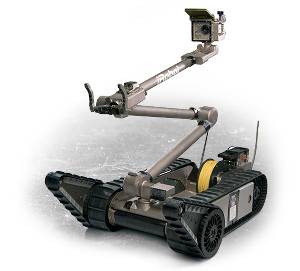 iRobot Corp., a leader in delivering robotic technology-based solutions, today announced its Defense & Security business unit has received orders totaling $7.2 million from U.S. and international customers.
The orders include the delivery of spare parts and associated equipment, as well as the delivery of new robots ranging from the five-pound, compact and expandable 110 First Look®, the man-portable 310 SUGV, the multi-mission 510 PackBot® and the heavy duty 710 Kobra™.
"As threats persist globally, iRobot's roster of defense and security clients continues to expand at home and abroad," said Tom Frost, senior vice president and general manager of iRobot's Defense & Security business unit. "Our customers' missions are critical to making the world a safer place. We take pride in providing our customers with a whole family of robot solutions, from five-pound robots to 500-pound robots. Our systems are reliable, field-proven and get the job done."
iRobot has delivered more than 5,000 of its defense and security robots to military and civil defense forces worldwide.
iRobot
12.09.2015

Share...





Adds to Existing $57.9M IDIQ Contract for Sustainment Activity across All FLIR Unmanned Ground Systems
02.02.2021
After rigorous field testing, Germany takes delivery of 44 FirstLook Robots that are used by military and law enforcement worldwide
30.11.2017
iRobot Announces Sale of Defense & Security Business to Arlington Capital Partners
05.02.2016
iRobot receives $9.8 M order for Small Unmanned Ground Vehicles (SUGV)
04.08.2015
510 PackBot (Robot, Unmanned Vehicle)
Discuss