British Army Extends Virtual Trainer Contract with £11 Million for Additional Support
Category: Training And Simulators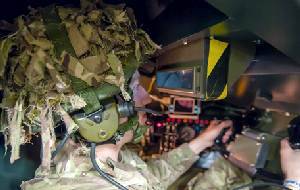 Warminster, Wiltshire -- The Ministry of Defence (MoD) is investing £11 million in additional support for the virtual training system used to prepare British soldiers for battle.
Lockheed Martin has been awarded a contract extension to continue its support for the Combined Arms Tactical Trainer (CATT), which is based at the Land Warfare Centre in Warminster. BAE Systems will also provide support services for the contract.
The CATT, which uses an immersive, computer generated environment to train up to 450 military personnel on a virtual battlefield, has been used by the Army since 2001. It was a key element of pre-deployment training for soldiers preparing to serve in Afghanistan. Lockheed Martin will provide new training scenarios and content for the CATT to help prepare Army personnel until 2018.
"Since the inception of the UK CATT program in 2001, we've helped the British army prepare more than 100,000 service members to accomplish their operations," said Jim Weitzel, vice president of Training Solutions for Lockheed Martin. "Extending these capabilities into the CATT program will boost complexity and realism, making it the most demanding and intensive ground training system personnel can use to ensure they are mission-ready."
The world's largest virtual training system, CATT is run jointly by the Lockheed Martin team and the MoD. This contract extension sustains more than forty jobs in Warminster and Sennelager in Germany where staff are involved in operating and maintaining the training system.
Lockheed Martin's technology is playing a key role in training military personnel across the Army, Royal Navy and Royal Air Force. Lockheed Martin is part of the joint venture Ascent that is providing the UK's Military Flying Training System and recently won a contract to provide synthetic training for Chinook Mk6 crews.
Sergyi Way
19.09.2015



www.army-guide.com
Share...





Lockheed Martin Autonomous Driving System Tops 55,000 Miles in Extended Army Testing
30.11.2017
SAAB Chosen As Sub-Contractor For The Ajax Virtual Crew Turret Trainer
14.10.2017
General Dynamics Land Systems–UK begins AJAX Manned Live Firing Phase of Programme, Using CTAI 40mm Cannon
18.09.2017
General Dynamics Land Systems–UK Will Deliver Innovative State-of-the-art Training Solutions for the AJAX Programme
14.09.2017
Lockheed Martin Electro-Optical Systems
Lockheed Martin Vought Systtems Corporation
Lockheed Martin Missiles and Fire Control
Discuss