Model of the Milkor 4x4 will be displayed at DSEI 2017
Category: Exhibitions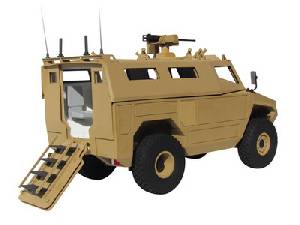 Milkor is a South African defence company which was established in 1981 as an original designer and manufacturer of the hand held 40mm Multiple Grenade Launcher weapon systems. Over the past 36 years, Milkor has supplied in excess of 60,000 weapons to more than 60 countries worldwide to military and law enforcement ranging for lethal to less-lethal.
Milkor is busy expanding the product range to include armoured vehicles. The first prototype of a 4x4 armoured vehicle planned to start manufacturing in early 2018 has been advanced. This first design will be called Milkor 4x4 and has a V-shape hull for better mine protection and B7 ballistic protection. This vehicle is suitable for defence forces, police, and security forces as an armoured personnel carrier, ambulance, anti-riot vehicle as well as command vehicle with up to 8+2 passenger capacity. Milkor 4x4 will be fitted with all available technology to stand against IEDs. Different weapon systems are offered with this vehicle including remote controlled weapon station (RCWS) with automatic grenade launchers (AGL). A model of the Milkor 4x4 will be displayed at DSEI 2017 for the first time.
Milkor's vision is to be a supplier of a wider range of defence and security products. Current product range company offering to market is including 40mm grenade launchers, ammunition, sighting systems, armoured vehicles, weapon systems for vehicles, bulletproof vests, complete uniforms, deployable tents, etc.
Milkor prides itself in providing after sales service of high quality and standard, currently maintaining a status of zero rate complaints, rejections and returns.
Milkor
09.09.2017

Share...





General Dynamics Land Systems–UK showcases adaptable Foxhound vehicle at DSEI 2019
23.09.2019
Otokar offers solutions with technology transfer and local manufacturing models
13.09.2019
General Dynamics Land Systems–UK Will Deliver Innovative State-of-the-art Training Solutions for the AJAX Programme
14.09.2017
General Dynamics Land Systems–UK Showcases EAGLE Platform Ahead of MRV-P Programme Trials
14.09.2017
blindado Milkor (Mine protected carrier)
Discuss