Supacat launches HMT Light Weight Recovery in defence industry first for Light Weight (Air Portable) Recovery vehicle programme
Category: Exhibitions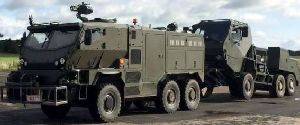 The global defence industry's most versatile Light Weight Recovery (LWR) vehicle will be unveiled by UK high mobility vehicle specialist, Supacat, at DSEi in London. The 10.5 tonne HMT Light Weight Recovery (HMT LWR) has been developed by Supacat to fill a capability gap to recover vehicles operating in hard to access urban and rural locations as required by the UK MoD's Light Weight (Air Portable) Recovery Capability (LW(AP)RC) programme.
The 6×6 HMT LWR offers high levels of agility, off-road performance and protection in common with Supacat's High Mobility Transporter (HMT) family, which includes `Jackal` and `Coyote` now within UK MoD's Core Fleet. HMT LWR utilises many HMT design features such as the variable height air suspension system, engine and drive line that have been battle proven in numerous theatres. Blast and ballistic protection has been built into the chassis providing the optimum protection for its weight of 10.5 tonnes.
The vehicle is capable of wading through up to 1.5m of salt water, with an additional 0.5m of wave splash. This enables the vehicle to be deployed from landing craft. It can operate at -30 to +50 degrees.
HMT LWR utilises an innovative new Supacat designed technology, `Supalift` (patent pending), which extends the range of vehicles that can be recovered by a light weight recovery vehicle. HMT LWR's recovery system can be operated both in conventional mode and by the operator engaging `Supalift`, which increases the maximum lifting weight of the recovery system by over 50%. In conventional mode the HMT LWR recovery system lifts a maximum recovered vehicle axle mass of 3.8 tonnes and in `Supalift` mode rises to 6.1 tonnes (specification based on recovering an HMT 400 `Jackal 2`). `Supalift` technology is based on the principle of distributing the weight of the casualty vehicle more evenly over the recovery vehicle.
Phil Applegarth, Head of Supacat, said, "HMT LWR provides customers with a highly versatile and cost effective light weight recovery capability, with the flexibility to recover a wide range of vehicles. We are very proud of our engineering team in developing `Supalift`, which finally makes a light weight recovery vehicle a reality and is a game-changer in extending the lifting capability of recovery systems for defence and other industry sectors".
HMT LWR is fitted with a specially designed Boniface and Miller Century 2465 hamper and a Rotzler TR80 main winch. These will be fitted as standard but as with all HMT platforms the modular hamper design can be reconfigured to suit any role.
At last year's DVD show Supacat revealed the concept demonstrator for the LW(AP)RC programme as one of several new variants of the HMT platform. This has since been developed as HMT LWR to full prototype, which will be displayed on Supacat's DSEi stand N9-360.
"HMT LWR also demonstrates the flexibility of the HMT platform in being configurable to different roles to meet the needs of current and future programmes", said Phil Applegarth, Head of Supacat.
Supacat
12.09.2017

Share...





General Dynamics Land Systems–UK showcases adaptable Foxhound vehicle at DSEI 2019
23.09.2019
Otokar offers solutions with technology transfer and local manufacturing models
13.09.2019
Supacat, Rheinmetall and SCISYS partnership showcases new High Mobility Integrated Fires Capability
12.09.2019
UK company pioneers autonomous hybrid vehicle for extreme off road operations
12.09.2019
Discuss