C2 FAUST System Proved Successful during Trials in Kosovo and Bosnia
Category: Defence Industry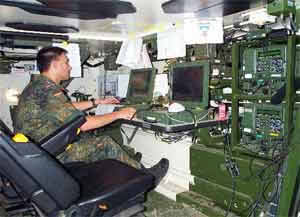 Having been comprehensively trialled by the German Army units deployed in Kosovo (KFOR) and Bosnia and Herzegovina (SFOR), the FAUST command and control system (C2) is starting to enter service with Bundeswehr.
The system is supplied by the European company EADS. The FAUST is a product of cooperation between this company and Bunderwehr. The purpose of this cooperation consisted in introduction of a battlefield management system as well as command and control system.
More than 150 FAUST systems were trialled in the Balkans, all of them successful. The field trialls were carried out from October 2003 till January 2004.
The armed forces of Great Britain, Canada and France received the first specimens of the FAUST command and control systems in Afghanistan early in 2003. The system proved to be rather efficient in three different theatres of military operations.
A decision has already been taken that the FAUST system will become the basis for development of a future battlefield management system under the designation FuInfoSys for the German Army. Development of the new system is to be completed in 2006 at the latest. This C2 digital system will make it possible to monitor, in real time and with high accuracy, the position of all fighting vehicles in the battlefield and to provide this information to commanders and headquarters so that they could take relevant decisions.
Sergyi Wey
15.02.2005



www.army-guide.com
Share...





FAUST (Commander's sighting system)
FAUST (Command and control system)
Discuss