Patria and IBD reveal a survivability concept at DSEi
Category: Exhibitions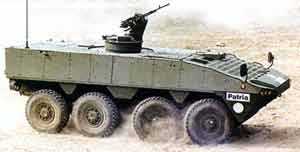 Patria Vehicles Oy and IBD Deisenroth Engineering, Germany, announced today a co-operation partnership programme within increased survivability and protection concepts for the Patria AMV platform.
The parties have joined forces to further improve the market leading platform of AMV with increased protection and balanced surviv-ability for near term and future scenarios. The initial part of the program focuses on passive IED (Improvised Explosive Device) protection solutions, by AMAP™- I, and integration of the AMAP™- ADS (Active Defence System).
"The Patria AMV platform clearly further strengthens its excellent position with the new integrated superior protection. This is how we, as manufacturer, seek to reduce the increasing threats at operations that our customers encounter today and tomorrow", says Heikki Hulkkonen, Executive Vice President, Patria's Vehicles Business Unit. "We see enormous potential in working together with one of the top platform manufacturers in the industry", states Anders Nilsson from IBD.
At the DSEi 2007 Patria and IBD will present the Patria AMV with an integrated solu-tion of the active defence system AMAP™- ADS. The prototype has thereby been given all around protection for KE, SC and IEDs. The intent by the parties is to proceed with further activities in order to be able to field the system within the next two years. Within the co-operation programme tests against passive IED protection, ad-dressing the capacity to withstand IEDs (including blast and fragments), have been conducted. The passive IED protection could now be inserted in the platform and deployed at short notice. This is a direct response to the actual threats in theatre. Both Patria Vehicles Oy and IBD address the intent to proceed with the additional activities within the programme to further enhance the AMV's superior capabilities.
Patria is a defence and aerospace group with international operations delivering its customers competitive solutions based on own specialist know-how and partnerships. Patria is owned by the State of Finland and the European Aeronautic Defence and Space Company EADS N.V.
IBD Deisenroth Engineering is a private company based in Lohmar, Germany which is providing the complete range of Survivability technologies with the family of AMAP™. The subsidiary ADS GmbH is further the focal point, within the IBD-group, for all activities which concern the Active Defence System (AMAP™-ADS).
Patria Vehicles Oy
20.09.2007

Share...





General Dynamics Land Systems–UK showcases adaptable Foxhound vehicle at DSEI 2019
23.09.2019
Otokar offers solutions with technology transfer and local manufacturing models
13.09.2019
Milrem Signs Contract for the Latvian BV206 Maintenance
25.04.2019
Eurosatory 2018: Patria 6X6 - Multifunctional transport capacity far into the future
12.06.2018
Discuss