Rheinmetall unveils new low-signature weapon system Fly-K at Milipol in Paris
Category: Exhibitions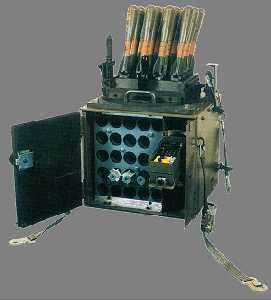 Today's armed forces increasingly find themselves deployed in out-of-area missions. In scenarios like these, troops are exposed to a multitude of different threats.
Keeping a low profile can help, and not just during commando-type operations. Being able to engage the enemy without revealing one's own position can give friendly troops a vital edge.
Rheinmetall Defence has concluded a licensing agreement with the Swiss firm Cathyor Engineering S.A. for Fly-K, an innovative low-signature weapon that Rheinmetall will be showcasing at MILIPOL 2007 for the first time. This carefully targeted expansion of the Group's product portfolio is set to give Rheinmetall customers the critical advantage of being all but undetectable on the battlefield.
Globally unique, Fly-K consists consists of a tried-and-tested family of ammunition already used by a number armies as well as the accompanying launcher.
A wide variety of different ammunition types are already available, including high explosive, white phosphorous smoke/obscurant, and practice rounds. The Fly-K family of ammunition also features an illumination round for the visual and infrared spectrum; others contain grappling hooks and anti-frogman warheads.
An HE round with a proximity fuse is planned, as are several variants with non-lethal payloads (red phosphorous smoke/obscurant, CS and OC gas, flash & bang stun ammunition) and marking rounds (coloured smoke and chemo-luminescent markers).
The weapon is designed for use in a wide variety of tactical scenarios:
Single-shot launcher: Intended for use by individual infantrymen, this variant is ultra-light and very safe to handle. The single-shot launcher is also highly reliable, even in rugged operating environments.
Multi-shot launcher: An electronically controlled weapon system with several different types of ammunition fired at a controllable launch speed in variable salvoes. Light and robust, it can be readily mounted on tactical vehicles. To cite just one example, the concept enables lightly armoured vehicles or boats to respond to an attack without revealing their position.
This revolutionary principle revolves around the unique interaction of the weapon and ammunition. As soon as the weapon transmits the ignition impulse to the ammunition, an enclosed internal propelling system launches the round. Among other things, this approach offers the following advantages:
Low signature during launch:
Noiseless: < 52 dB at 100m distanc
No heat signature: Undetectable by IR sensors
No smoke: Cannot be visually detected in daylight
No muzzle flash: Cannot be visually detected at night
Efficient, versatile, safe:
Low weight means being able to carry more ammunition per unit
No possibility of double feeding due internal propelling system
Possibility of constant fire; no overheating of the weapon
A wide variety of ammunition types enables a multitude of missions
Rheinmetall AG
12.10.2007

Share...





Rheinmetall MAN Survivor R special protected vehicle on show at GPEC 2020 international security exhibition in Frankfurt/Main
24.02.2020
Rheinmetall books ˆ110 million-contract to extend the service life of the Marder infantry fighting vehicle for the Bundeswehr
21.01.2020
Rheinmetall to Feature Next Generation 130mm Tank Gun at AUSA Global
04.11.2019
Rheinmetall Presents Next Gen "Wiesel Wingman" solution for Robotic Combat Vehicle – Light at AUSA 2019
04.11.2019
Rheinmetall MAN Military Vehicles GmbH - RMMV
Rheinmetall Verseidag Ballistic Protection GmbH
Rheinmetall Soldier Electronics GmbH
Rheinmetall AG, Representative Office Abu Dhabi
Rheinmetall Waffe Munition GmbH
Rheinmetall Defence Electronics GmbH
Rheinmetall Waffe Munition Arges GmbH
American Rheinmetall Munitions, Inc. - ARM
Rheinmetall Denel Munition (Pty) Ltd - RDM
Discuss