KrAZ Trucks are Employed by the Ukrainian Ministry of Emergency Situations
Category: Exhibitions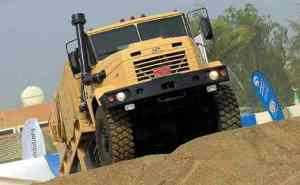 KrAZ trademark model range was enriched by the whole family of trucks designed for fire extinguishing and relief actions in emergency situations.
Naturally, trucks have attained a success being estimated at their true worth. During the tender there were namely KrAZ trucks being given the preference of the Ukrainian Ministry of Emergency Situations. Consequently, 'AvtoKrAZ' Holding Company will deliver to the Ukrainian MES a batch of special-purpose trucks KrAZ-5233BE-019 (4×4) intended for prompt arrival to the place of explosive substances detection and special equipment transportation, as well as for mine clearance work and further transportation of heavy gauge explosive substances, their gross weight being more than 250 kg, to the destruction site.
The KrAZ-5233BE-019 truck is equipped with hydraulic crane (maximum boom extending is 8.25 m) and special equipment, in particular with Husqvarna 950K Active gasoline blow torch, Husqvarna 575 XP chain saw, GBH 11 DE BOSCH electric drill press, KGE 6500E electric station, radio station and GPS-navigator.
At the beginning of October AvtoKrAZ Holding Company took part in the Defense technology International Exhibition. The exhibited KrAZ trucks won primary prizes in the Ukrainian MES contest on best production for protection of civilians and territories from man-caused and natural emergency situations.
KrAZ
22.11.2007

Share...





AutoKrAZ to Unveil New Armored Vehicle at IDEX 2013
20.02.2013
State Company UKRSPECEXPORT represents Ukraine at the International Defence Exhibition and Conference 'IDEX 2011' (Abu Dhabi, UAE) to be held from 20th till 24th February, 2011
23.02.2011
Joint Stock Company Foreign Trade Firm KRAZ
KRAZ-ASV Panthera (Mine protected carrier)
KRAZ Shrek One (Mine protected carrier)
KRAZ Hulk (Mine protected carrier)
Discuss