Within One Year the Ukrainian Army Has Received 56 Bulat Main Battle Tanks
Category: Defence Industry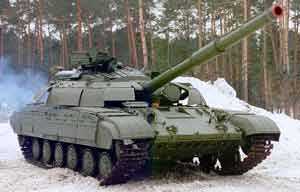 During the last year the military units of the Ukrainian Armed Forces received from Kharkiv 56 Bulat main battle tanks (MBT), which are an upgraded version of the T-64B battle tank. This was announced by Alexey Podgorniy, the acting director general of the Kharkiv-based State Enterprise Malyshev Plant.
The next year is to see delivery of another 30 upgraded tanks. If provided with relevant financial support, the Malyshev Plant will be able to establish in the near future the facilities for production of the first ten Oplot MBTs.
The Oplot MBT, which is to enter service with the separate tank brigade of the 6th Army Corps of the Ukrainian Army, is the first national tank of Ukraine.
The Oplot features a 1200 hp engine, automatic gearbox, new fire control system, excellent tactical and mobility characteristics, good crew ergonomics and, if compared with similar foreign tanks, low cost.
Besides, it is planned to supply three Atlet armoured repair and recovery vehicles and ten BTR-4 armoured personnel carriers. These armoured vehicles, according to the General Designer of Kharkiv Morozov Machine Building Design Bureau Lt Gen Mikhailo Borysiuk, are in many aspects are on a par with the most advanced foreign vehicles.
Malyshev
01.12.2008

Share...





Robotic Warfare Systems Will Bring Disruption to the Battlefield, Milrem Robotics' Study Finds
25.04.2019
Bumar Labedy represents the PT-17 MBT on the MSPO 2017
07.09.2017
AM General Secures Additional $57 M In HMMWV Vehicle And Parts Sales
01.03.2016
AM General Secures 6-Year, $428.3 M To Provide The Army With M997A3 HMMWV Configured Ambulances
10.09.2015
Ministry of Defence of Ukraine
Central office on military and technical cooperation of MoD of Ukraine
SLOVSEL s.r.o. Ukraine representative
PARALLAKS Ukraine-Russia Joint Scientific Industrial Enterprise
SBA-60K2 Bulat (Tactical vehicle)
Discuss