Universal Engineering Launches New Vehicle at DVD
Category: Defence Industry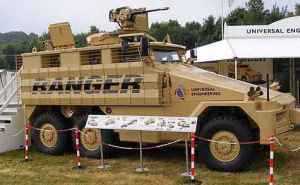 A brand new, British designed and built armour protected patrol vehicle was launched at the Defence Vehicle Dynamics exhibition on 24th June. During this major event, RANGER was viewed at length by Quentin Davis, UK Minister for Defence, as well as contingents from other countries including the USA, Australia and Norway.
RANGER represents the next generation of mine resistant armour protected (MRAP) vehicles. However, unlike previous such equipments, RANGER achieves improved medium mobility, STANAG 4569 Level 4 protection as a minimum, has been designed from the crew outwards and offers a 6 tonne payload in the 6x6 and 8x8 variants.
Survivability focussed, RANGER is a private venture programme from Universal and has been designed and built in under a year using advanced computer design techniques. Offered as a family of vehicles, the new system creates a wide variety of mission and weapon functionalities. Its tuneable armour can be precisely matched to defeat the threat whilst its survivability capsule, energy absorbing suspended seats, boat shaped hull, armoured belly plates and floating floor offers the best possible protection against IED attack. Its weapon options include 30mm canon, remote weapons station, GPMG, AGL, HMG or ATGW.
Its modular design ensures rapid LRU reset, simple ILS and through life capability management. RANGER is now undergoing validation trials in Dorset and will attend DSEi in September.
Universal Engineering
20.09.2009

Share...





FLIR Systems Awarded $74.7 Million Contract for Land Surveillance Systems for U.S. Army
04.10.2017
CMI Defence introduces the world's first UAV integration in a combat turret
16.06.2016
ARA Robots Up to the Challenge in US Army`s 2012 Robot Rodeo
19.09.2012
New Generation of Protected Patrol Vehicle launched into Europe
12.06.2010
Discuss