CMI Defence introduces the world's first UAV integration in a combat turret
Category: Future Technologies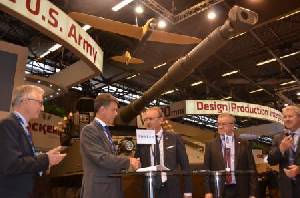 CMI Defence is introducing at Eurosatory 2016 a new feature that extends the situational awareness and enhances the indirect firing capabilities of its turrets: the first Unmanned Aerial Vehicle (UAV) integration on a combat turret. This newly developed ability to communicate and interact with a dedicated mission-capable UAV is a world première. It is contributing to CMI Defence remaining at the forefront of the technological developments and of the growing needs for versatility on the part of highly mobile armies.
All CMI Defence turrets have advanced features that maximize the offensive and defensive capabilities directly in the control of the commandant of the platoon and of the crew of the combat vehicle. For the first time in the world, CMI Defence has integrated the control of a mini-drone to a weapon system, allowing the direct use of the data coming from its optical payload by the turret crew. This 'world première' is demonstrated on CMI Defence booth at Eurosatory 2016, on its flagship Cockerill® 3105HP turret equipped with the advanced 105mm gun.
Derived from the field proven Spy'Ranger drone from Thales and their console Spy'C, the team of CMI Defence has worked closely with Thales to directly run the control software in the Turret Network Controller and the Ballistic Computer of the Cockerill® 3105HP turret. The HMI has been adapted to the existing displays used by the crew to facilitate the control of the drone (position, evolution in the theater of operation) and the use of the data coming from the optical gimbal (display of the aerial view).
The new feature allows:
Better accuracy in indirect firing via the Forward Observer capability of the drone: target localization and designation, first firing assessment and corrective indication in artillery mode, as well as battle damage assessment.
Reconnaissance and situation awareness at extended distance, complementing the existing capability of the sighting systems of the turrets.
These new features improve the survivability of light armored vehicles and their weapon systems, improve the crew safety (e.g. in urban areas) and reduce collateral damage by a better assessment of the immediate tactical situation. It is a commander's "direct-in-hand" capability, which complements the traditional Close Air Support and Artillery Support when both are not available.
Jean-Luc Maurange, President of CMI Defence, stated: "At CMI Defence, we constantly develop new solutions to improve the use of Cockerill® systems throughout their life- cycle. This UAV integration is another example of how CMI Defence teams respond to the growing needs for versatility on the part of highly mobile armies."
Spy'Ranger and Spy'C are the properties of Thales.
CMI Defence
16.06.2016

Share...





Rheinmetall Mission Master Dominates European Ground Robotic Systems Competition at ELROB 2018
04.11.2018
HORIBA MIRA Displays Centaur Unmanned Ground Vehicle at International Defense
21.06.2018
Otokar debuts its Light Tank in Paris
19.06.2018
Axletech Reveals Electric Independent Suspension Concept Aa Eurosatory 2018
19.06.2018
Discuss