HORIBA MIRA Displays Centaur Unmanned Ground Vehicle at International Defense
Category: Robots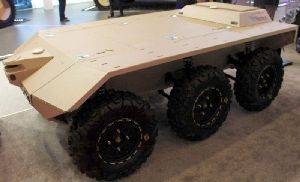 HORIBA MIRA – a world-leader in unmanned ground vehicle systems has displayed its state-of-the-art unmanned ground vehicle (UGV) platform, CENTAUR, at Eurosatory in Paris, France.
The UGV can be integrated with various payloads including the detection of improvised explosive devices, remote surveillance and soldier support.
The CENTAUR platform is a variant of the VIKING platform that HORIBA MIRA has developed over a number of years. The lightweight vehicle can reach speeds of up to 40kph.
Eurosatory is the international leading exhibition of land and air defence and security, held between 11-15 June. This year it will host more than 1,750 exhibitors from 63 countries, and more than 57,000 professional visitors are expected.
The vehicle will be displayed at the stand of Katmerciler, the Turkish defence company, with whom HORIBA MIRA formed a consortium for UGV development last month.
Rob Mohacsi, Senior Commercial Manager, Defence Systems said, "HORIBA MIRA is viewed as a pioneer in high-tech autonomous vehicles and we are delighted to bring our platform to such a prestigious event. We pride ourselves on being at the cutting edge of developments in the defence and security industries and, as such, there is no better place at which to showcase the work of our world-class engineers."
Sergyi Way
21.06.2018



www.army-guide.com
Share...





Adds to Existing $57.9M IDIQ Contract for Sustainment Activity across All FLIR Unmanned Ground Systems
02.02.2021
FLIR Wins U.S. Army Heavyweight Robot Contract Worth Up to $109M
06.12.2019
HORIBA MIRA to Continue to Develop Cutting Edge Unmanned Ground Vehicle Technologies
30.07.2018
Centaur (Robot, Unmanned Vehicle)
Centaur (Robot, Unmanned Vehicle)
Discuss