French Army Continues M11 VBL Procurement
Category: Defence Industry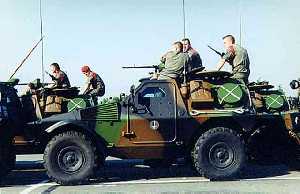 NEWTOWN, Conn. -- Serial production of the M11 Vehicule Blinde Leger (VBL) is ongoing, primarily for French Army procurement.
In 2002, the French Army placed a follow-on order for 500 vehicles. In April 2006, the French Army ordered an additional 91 VBL2L reconnaissance vehicles. The French Army VBL procurement objective now exceeds 1,600 vehicles.
Since Mexico placed the first export order for the M11 in 1985, the VBL has enjoyed moderate success on the international market. In June 2004, the United Arab Emirates became the latest customer, accepting delivery of 24 VBL vehicles.
In October 2008, the Kuwaiti Special Forces awarded Panhard a contract of undisclosed value for 20 VBL Mk 2 reconnaissance vehicles. Deliveries occurred during the second half of 2009. These vehicles are in addition to the 20 VBL vehicles that Kuwait already had in its inventory.
French Army orders alone will maintain a steady base level of production through 2019. Indeed, French Army follow-on orders have precipitated a nearly 58 percent increase in our production outlook for the VBL since 2005.
Forecast International
13.07.2010

Share...





The Scarabee An Innovative Prototype
13.06.2018
The French ministry of Defence orders vehicles for its Special Forces
09.01.2016
Panhard vehicles at Eurosatory 2012
11.06.2012
France orders Wasp remote-controlled turrets for armored vehicles
21.02.2011
Forecast International – Europe & Middle East
Societe de Constructions Panhard et Levassor
Discuss