The Scarabee An Innovative Prototype
Category: Exhibitions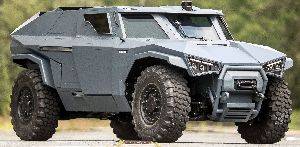 A major partner of the armed forces, Arquus boasts over a century of protection and mobility know-how. Its Defense and Security vehicles offer a large payload capacity, robustness and autonomy, guaranteeing the success of even the most delicate missions. Arquus vehicles are combat proven with fifty years of active duty in French Army operations.
Arquus is developing on its own equity, a vehicle which combines the most advanced technologies related to mobility, protection and collaborative combat : The Scarabee.
A successor to the VBL and heir to the Panhard armored cars, the Scarabee is a concept offering avant-garde innovations and achieving unrivaled performance.
Offering collaborative ergonomics and maximal comfort, it will enable innovative energy management and exceptional payload.
Equipped with powerful and modern firepower, it will be an essential actor of collaborative combat. Moreover, simple vehicle maintenance will make it optimal for foreign operations.
Discover all the new innovations for Arquus at Eurosatory on booth F267, Hall 5A.
Arquus
13.06.2018

Share...





TEMPORARY COMPANY GROUPING EBMR MEETS ITS DELIVERY OBJECTIVES FOR 2019
14.01.2020
Arquus Unveils Its New Identity On May 24th 2018
04.06.2018
Discuss