Arquus Unveils Its New Identity On May 24th 2018
Category: Defence Industry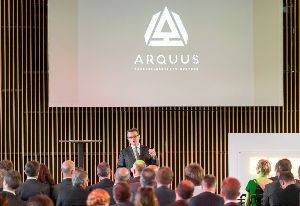 On the evening of May 24, 2018, Arquus invited 450 prominent figures from the defense world to celebrate its new corporate identity. During the plenary session, Emmanuel Levacher, the CEO of Arquus, presented the company's new identity, explaining the long-term considerations that motivated the change.
After drawing some lessons from the century-old history of the company's brands, he gave the floor to various Executive Committee members who took turns outlining different aspects of the new strategy. They showed the concrete ways in which Arquus would be capable of honoring its commitments and continually improving in order to fully meet its business partners' expectations. The evening was an opportunity to present the company's capabilities in terms of innovation, services, and system integration.
Speaking from Gothenburg in Sweden, Martin Lundstedt, the CEO of the Volvo Group, reiterated his confidence in Arquus' management team and pledged the Group's full support for the company's success.
In a convivial atmosphere, Arquus staff members were then able to mingle with the defense stakeholders in attendance, a reminder that the success of weapons often depends on close collaboration between manufacturers and military users involved in a co-design process.
Through this event, Arquus reaffirmed its commitment to defense and security forces and its emphasis on innovation as the driving force for its future development.
Arquus
04.06.2018

Share...





TEMPORARY COMPANY GROUPING EBMR MEETS ITS DELIVERY OBJECTIVES FOR 2019
14.01.2020
The Scarabee An Innovative Prototype
13.06.2018
Discuss