DRS Technologies Receives $20.3 Million Follow-On Order for Long Range Advanced Scout Surveillance Systems Sub-Assemblies (LRAS3)
Category: Defence Industry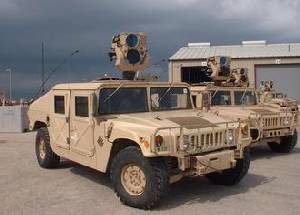 PARSIPPANY, N.J. -- DRS Technologies, Inc., a Finmeccanica Company, announced it has received a follow-on order valued at $20.3 million for critical Long Range Advanced Scout Surveillance System (LRAS3) sub-assemblies.
LRAS3 is a multi-sensor infrared system that enables real-time detection, recognition, identification and geo-location of distant targets. Used by Army Scouts on Stryker and HMMWV platforms for conducting reconnaissance and surveillance tasks, LRAS3 provides the capability to observe and report on enemy activity while remaining outside of the enemy's acquisition and fire ranges – a crucial improvement over previous generations of this technology.
The $20.3 million order was issued by Raytheon Network Centric Systems, McKinney, Texas, the LRAS3 program's prime contractor and final integrator. It is the third order this business has placed against this multi-year contract awarded to DRS in 2008.
Under the terms of the contract, DRS will provide key LRAS3 sub-assemblies such as Integrated Optical Benches (IOBs), Telescope/Afocals, Vehicle Mounted Yokes (VMYs), and Stovepipes. The work will be performed by the Melbourne, Florida operation of DRS Technologies' Reconnaissance, Surveillance & Target Acquisition (RSTA) business group. Deliveries have commenced and will continue through September of 2011.
"We're proud to make key contributions to this outstanding technology," said RSTA President Terry Murphy. "It enables Scouts to carry out their vital and inherently dangerous reconnaissance and surveillance missions while staying out of harm's way, thus improving our armed forces' success on the battlefield."
About DRS Technologies
DRS Technologies, headquartered in Parsippany, NJ, is a leading supplier of integrated products, services and support to military forces, intelligence agencies and prime contractors worldwide. The company is a wholly owned subsidiary of Finmeccanica S.p.A. (FNC.MI) which employs more than 75,000 people worldwide.
DRS Technologies
10.04.2011

Share...





Recapitalization of 218 M1A2 Tanks and Related Equipment and Support
16.12.2016
DRS Technologies Awarded Up To $400 Million U.S. Army Contract To Build New Joint Assault Bridge System
29.08.2016
Leonardo-Finmeccanica presents advanced technology for land-based defence
11.06.2016
BAE Awarded Contract to Begin AMPV Program
24.12.2014
LRAS3 (Reconnaissance Vehicle)
LRAS3 (Observation And Reconnaissance Equipment)
Discuss