333 Leopard 2 Tanks for Greece
Category: Defence Industry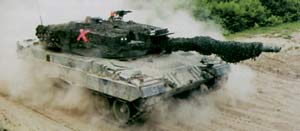 Greece will receive 333 Leopard 2 main battle tanks and other vehicles from the German Federal Armed Forces. The Secretary-General for arms planning and defense investments in the Greek Ministry of Defense, Georgios Zorbas, and the head of the armaments department in the German Ministry of Defense, Joerg , signed in Berlin today a contract covering the supply to Greece of a total of 333 Leopard 2 main battle tanks as well as further support vehicles from surplus stocks of the German Federal Armed Forces.
The vehicles will be refurbished and reconditioned before their delivery to the Greek armed forces by German industry, with the participation of Greek industry.
Greek government has representatived signed a contract for the purchase of 183 used Leopard 2 A4 and 150 Leopard 1 A5 main battle tanks (MBTs) from Bundeswehr (German Federal Army) reserves. The deal between the German and Greek governments involves a substantial work package for Krauss-Maffei Wegmann, Europe`s market leader in armoured wheeled and tracked vehicles.
"The Greek government`s decision to purchase further Leopard tanks underlines yet again the undisputed top ranking of this Krauss-Maffei Wegmann product on the international market", commented Frank Haun, managing director and deputy CEO at KMW. Krauss-Maffei Wegmann will have a share of around 150 million Euro in this governmental transaction for repair and technical modification of the Leopard 2 A4 MBT and for supply of special tools. In addition, KMW will provide repair capabilities for Leopard 2 A4 in Greece from 2006 on. Krauss-Maffei Wegmann GmbH & Co. KG is the European market leader in wheeled and tracked armoured vehicles.
With a workforce of around 2500 and a comprehensive systems capability, KMW, as a leading systems supplier, produces and maintains a product range extending from air-transportable and anti-mine-protected wheeled vehicles (the Mungo and Dingo) via reconnaissance, anti-aircraft and artillery systems (Fennek and the Armoured Howitzer 2000) up to and including main battle tanks (Leopard 1 and 2) and armoured-personnel carriers (Puma). The armed forces of twenty-five nations around the globe place their faith in KMW`s mission systems.
German MoD
08.08.2005

Share...





Denmark and Germany receive the latest versions of the LEOPARD 2
07.11.2019
Rheinmetall to Feature Next Generation 130mm Tank Gun at AUSA Global
04.11.2019
Multimillion-euro order from Hungary
02.10.2019
The Dutch armed forces select Rheinmetall to modernize their Bergepanzer 3 Büffel
17.05.2019
Krauss-Maffei Wegmann GmbH & Co.KG - KMW
Greek Powder and Cartridge Company SA (PYRKAL)
Greek Powder and Cartridge Company SA
Leopard 2 Strv 122 (Main battle tank)
Leopard 2 Strv 121 (Main battle tank)
Leopard 2/Pz87 (Main battle tank)
Lahat Leopard 2 (Modernization of the vehicle)
Discuss