Metal Storm Signs Munitions Development Agreement with US Army
Category: Defence Industry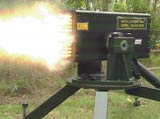 ARLINGTON, Va. -- Defense technology company Metal Storm Limited today announced that it`s US subsidiary, Metal Storm, Inc has signed an agreement with the US Army to develop and adapt munitions for use with Metal Storm 40mm weapons systems.
David Smith, Metal Storm`s CEO, said the Cooperative Research and Development Agreement (CRADA) is significant because it formalizes the company`s partnership with a key defense industry research organization. "The CRADA will allow us to take existing certified munitions from the US Army inventory and convert them to Metal Storm configuration," he said.
"Our agreement with the US Army Research Development and Engineering Center (ARDEC) provides us with the opportunity to establish a successful business development partnership with one of the defense industry`s most influential research organizations," he said. "It also supports Metal Storm`s clearly stated strategy of focusing on its core 40mm technology, getting it to market in the shortest time possible and transforming itself into a systems integrator." Mr. Smith said the agreement would provide the framework for the rapid development testing and eventual certification of a range of 40mm munitions for use with Metal Storm`s weapon systems.
Under the agreement, which has a life of up to 5 years, Metal Storm will work closely with US Army engineers and will have access to specialized equipment, laboratories, and armaments facilities on a fee for service basis. The estimated cost to Metal Storm of the scope of works under this agreement is up to US$549,000 (approximately AU$730,000) which the Company expects to be completed within the next 12 to 18 months. Metal Storm Limited is a defense technology company engaged in the development of electronically initiated ballistics systems using its unique "stacked round" technology.
The company is headquartered in Brisbane, Australia and incorporated in the US, with an office in Washington DC. Metal Storm is working with government agencies and departments, as well as industry, to develop a variety of systems utilizing the Metal Storm non-mechanical, electronically fired stacked ammunition system.
Metal Storm Limited
25.09.2005

Share...





Metal Storm Completes Mission Payload Module Contract
11.05.2011
Futuristic artillery gun is cited as the world`s fastest firearm
23.11.2010
Metal Storm signs PNG contract
07.09.2010
Metal Storm Awarded Volume Weapons Production Contract
03.08.2010
RCWS/ADWS (Remote controlled weapon station)
Discuss