RAFAEL Offers Newly Armored Vehicles To The US Army And NATO Forces
Category: Defence Industry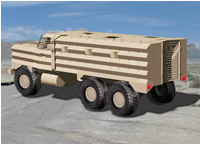 Haifa, -- RAFAEL Armament Development Authority has released two new light armored vehicles, together with partners FPI and International, which are intended for the US Army and NATO Forces.
The vehicles: Cougars, produced by Force Protection, Inc. and the International, produced by International and Griffin, are currently being introduced into the US Marines.
The changes to the modern battlefield, including increased activity in urban environments, make it necessary to find better solutions for protecting soldiers. This is especially true for soldiers on the move from place to place; in danger of being attacked by roadside bombs, anti-armor weapons and a variety of other threats.
Following the success RAFAEL has had with its armor in Iraq and the additional order from the US Army for reactive armor to be used on the Bradley fighting vehicles (an order worth $20M), together with the success the IDF has reported having with RAFAEL's Wolf light armored vehicles in operational situations, RAFAEL developed a new line of armor for thin plated vehicles, such as the Cougar and International.
These vehicles carry 12 soldiers and RAFAEL's armor will provide them with optimal protection against such threats as anti-armor weapons and roadside bombs, typically used in the urban fighting situations found in Iraq and Afghanistan.
Both the Cougar and the International join a long line of vehicles equipped with RAFAEL's advanced, innovative armor, including the American Bradley, the AAV7 used by the US Marines, the CV-90, FV-432 and the M-113.
The same technology used for armoring the American vehicles, which have successfully withstood a variety of threats, will also be used to protect the M-113 APC in the IDF.
Rafael
19.10.2005

Share...





BAE Systems` CV90 increases lethality by testing SPIKE LR anti-tank guided missile
14.01.2020
General Dynamics Land Systems–UK showcases adaptable Foxhound vehicle at DSEI 2019
23.09.2019
Rheinmetall unveils the Lynx KF41 Next-Generation Combat Vehicle
18.06.2018
General Dynamics European Land Systems presents a new variant of PIRANHA IFV at the HEMUS Exhibition 2018
04.06.2018
RAFAEL Armament Development Authority Ltd.
RAFAEL Ordnance Systems Division
Cougar (Wheeled armoured personnel carrier)
Cougar H 4x4 (Mine protected carrier)
Cougar MRAP (Mine protected carrier)
Cougar (Wheeled armoured personnel carrier)
Discuss