SAIC Awarded $121.5 Million ACV 1.1 Contract by U.S. Marine Corps
Category: Defence Industry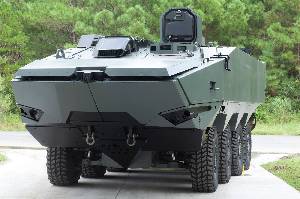 The U.S. Marine Corps awarded Science Applications International Corp. a prime contract worth $121.5 million to build 13 prototypes for the Engineering, Manufacturing and Development (EMD) of the Amphibious Combat Vehicle Phase 1, Increment 1 (ACV 1.1).
"We are honored to have been selected by the U.S. Marine Corps to deliver a truly amphibious solution that will support infantry Marines ashore," said Tom Watson, SAIC senior vice president and general manager of the Navy and Marine Corps customer group. "Our solution provides the Marine Corps with an ACV that is fully-protected and has superior maneuverability with amphibious ship-to-shore capability. We are pleased that the protest for this program has been favorably resolved. Now, SAIC and the Marine Corps can move forward on this important program."
During the EMD phase, SAIC, along with teammate ST Kinetics, will provide the Marine Corps with 13 prototypes that will be tested next year. Work will be performed primarily in SAIC's facility in Charleston, South Carolina, where the company is currently providing the Marine Corps with initial survivability upgrades to 10 Assault Amphibious Vehicle (AAV) prototypes.
SAIC and ST Kinetics' enhanced ACV 1.1 solution, called TERREX 2, is an 8x8 wheeled, armored ACV with improved mobility that can transport a combat load of up to 11 embarked Marines and three crew members through hostile territory. On land, TERREX 2's independent suspension system improves ground mobility and ride quality for U.S. Marines. In water, TERREX 2's hydraulically driven propulsion systems with full independent thrust control authority allows safe operation at Sea-State 3 and through six-foot plunging surf.
"ST Kinetics is pleased to be informed of the Marine Corps' selection of the TERREX 2 for the next phase of evaluation for the ACV 1.1 program," said President of ST Kinetics Ravinder Singh. "Following GAO's decision to proceed with the ACV 1.1 program, and together with our teammate SAIC, ST Kinetics now moves into the EMD phase of the ACV program."
For more than 10 years, SAIC has modified and upgraded armored vehicles for the Department of Defense ensuring warfighters are protected during combat, while securing command and control and repair capabilities. ST Kinetics is one of Asia's leading land systems and specialty vehicles companies having delivered hundreds of TERREX 1 vehicles to the Singapore Armed Forces as well as the Warthog, a twin chassis, multi-purpose articulated tracked carrier, to the British Armed Forces.
SAIC
19.03.2016

Share...





Kongsberg and Milrem Robotics Showcase a Robotic Antitank and HMG System at AUSA
14.10.2018
SAIC Announces Teaming Agreement with ST Kinetics and CMI Defence to Develop Ground Combat Vehicle Prototype
08.10.2017
U.S. Marine Corps Advances SAIC to Next Phase of AAV SU Production
20.09.2017
SAIC Unveils First Amphibious Combat Vehicle 1.1 to U.S. Marine Corps
28.02.2017
Science Applications International Corp. (SAIC)
Discuss