AxleTech International exhibits new independent suspension at IDEX
Category: Defence Industry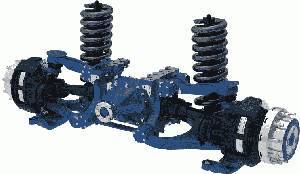 AxleTech International is exhibiting at IDEX from February 19-23 in Abu Dhabi. The company will be displaying the newest 5000 Series variant in its line of Independent Suspensions Axle Systems (ISAS®).
This latest 5000 Series ISAS variant incorporates several new design features, including outboard brakes and lower component weight. While many suspension options are available, the displayed model at IDEX demonstrates suspension variations from KONI; including the new HYDRORIDE® self-contained hydro-pneumatic springs and dampers.
"Our newest engineered design allows AxleTech to more readily accommodate various vehicle sub-frames and optimizes our manufacturing to reduce component costs for certain configurations," said Tyler Bean, Vice President of Sales at AxleTech International.
AxleTech's 5000 Series ISAS product family is the heaviest line of independent suspensions for the defense industry, with axle capacities reaching 13.2 metric tons. AxleTech is the only company manufacturing a complete line of field-proven axles and independent suspensions for combat and tactical wheeled vehicles around the world.
HYDRORIDE is a registered trademark of KONI, an ITT company.
AxleTech
25.02.2017

Share...





Axletech Reveals Electric Independent Suspension Concept Aa Eurosatory 2018
19.06.2018
AxleTech International unveils industry-first independent suspension system at ICUEE
08.10.2017
AxleTech International and Thales announce long-term supply agreement
25.07.2017
AxleTech International builds first axle in new manufacturing facility in India
15.01.2016
Discuss