AxleTech International unveils industry-first independent suspension system at ICUEE
Category: Exhibitions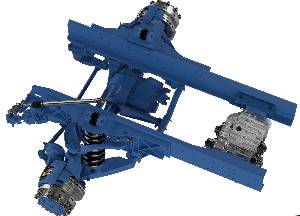 Troy, Michigan -- AxleTech International has worked with Altec Industries, a leading equipment and service provider for the electric utility industry, to develop and industrialize the next generation of drivetrain systems for All-Wheel-Drive (AWD) utility trucks.
Standard AWD utility trucks are equipped with a rigid front drive axle and leaf spring suspension. This offering often requires modifications to the vehicles' frame rails. Current truck configurations have many limitations with regards to vehicle handling, stability, and control.
AxleTech's new modular drivetrain system is based on its field-proven ISAS® independent suspension system, and is adapted for use on a Class 7/8 on-highway truck chassis. The system consists of an Independent Front Suspension (IFS) drive axle module, rated up to 22,000 lb, equipped with modern steering geometry and air disc brake technology, and a low-profile shift-on-the-fly transfer case. The AxleTech solution provides enhanced safety and vehicle control when operating on and off-road, compared to conventional drivetrain systems.
"Our bolt-on modular solution eliminates the need for frame rail modifications, so our system maintains the frame height of a rear-wheel-drive truck. Vehicle roll stability is improved, and cab and driver-absorbed power is significantly lowered," said James McConville, Chief Engineer at AxleTech. "Overall, the AxleTech solution provides better vehicle maneuverability, roll stability, and handling when operating in the field," he added.
In collaboration with Altec Industries, AxleTech is bringing its expertise in custom independent suspension systems to the electric utility industry. The IFS system is available now, and customers can contact Altec or AxleTech for more information. Non-drive versions of the IFS are also available for fleets wanting the safety benefits of the independent suspension on rear-wheel-drive vehicles.
AxleTech and Altec are each displaying an AWD utility truck featuring the ISAS® independent suspension system at the ICUEE show from October 3-5 in Louisville, Kentucky.
Sergyi Way
08.10.2017



www.army-guide.com
Share...





Axletech Reveals Electric Independent Suspension Concept Aa Eurosatory 2018
19.06.2018
AxleTech International and Thales announce long-term supply agreement
25.07.2017
AxleTech International exhibits new independent suspension at IDEX
25.02.2017
AxleTech International builds first axle in new manufacturing facility in India
15.01.2016
Discuss