General Dynamics European Land Systems demonstrates the PIRANHA 8X8 Wheeled Armoured Vehicle to the Bulgarian Army
Category: Defence Industry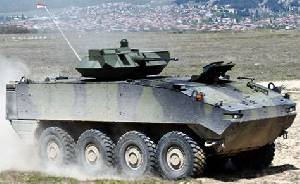 KAZANLAK (BULGARIA) -- The PIRANHA INFANTRY Fighting Vehicle (IFV), a member of the PIRANHA family of vehicles, was officially presented on April 27th at the Military polygon Tylbeto near the city of Kazanlak in Bulgaria. The Military Unit Tylbeto in Kazanlak hosted the vehicle demonstration event, with a broad military audience, state officials and authorities and local industry in attendance.
Together with its partners, General Dynamics Mission Systems and Rafael Advanced Defense Systems, General Dynamics European Land Systems successfully conducted the three-day vehicle demonstration and live firing event with a PIRANHA IFV equipped with a 30mm NATO-compliant remote controlled weapon station, an anti-tank guided missile system and a fully integrated communication information system. The vehicle is a candidate for the Bulgarian Army's Battalion Battle Group acquisition project.
"General Dynamics European Land Systems is honoured to have the opportunity to present the full range of the PIRANHA system capabilities to the Bulgarian Army. With our proven technology and advanced system capabilities, we are confident in our ability to provide the Bulgarian Army with a compliant solution," said Dr. Thomas Kauffmann, Vice President of International Business & Services of General Dynamics European Land Systems.
GDELS
09.05.2017

Share...





Germany awards 159 MUSD vehicle contract to GDELS
24.04.2020
CONTRACT TO DELIVER REMOTE WEAPONS STATIONS TO DENMARK WORTH 270 MNOK
11.12.2019
DALO Contracts Systematic To Enhance Artillery System Combat Effectiveness
17.07.2018
The Transatlantic Partner for Land Defense in Europe - General Dynamics European Land Systems premiers four new offerings at EUROSATORY 2018
08.06.2018
General Dynamics European Land Systems - GDELS
Piranha II 10x10 (Fire support vehicle)
Piranha 8x8D (Wheeled armoured personnel carrier)
Piranha 6x6 (Wheeled armoured personnel carrier)
Piranha III 6x6 (Wheeled armoured personnel carrier)
Piranha (Wheeled armoured personnel carrier)
Piranha 8x8 (Wheeled armoured personnel carrier)
Piranha IIIC (Self-propelled antitank guided missile system)
Piranha IIIC (Command vehicle)
Piranha III 8x8 (Wheeled armoured personnel carrier)
Piranha II (Repair and recovery vehicle)
Piranha IV 8x8 (Wheeled armoured personnel carrier)
Piranha ACV (Fire support vehicle)
Piranha I 8x8 (Wheeled armoured personnel carrier)
Piranha II 8x8 (Wheeled armoured personnel carrier)
Piranha I 6x6 (Wheeled armoured personnel carrier)
Piranha I 4x4 (Wheeled armoured personnel carrier)
Piranha II 4x4 (Wheeled armoured personnel carrier)
Piranha II 6x6 (Wheeled armoured personnel carrier)
Piranha III 10x10 (Wheeled armoured personnel carrier)
Piranha III 10x10 (Reconnaissance Vehicle)
Piranha II 8x8 (Command vehicle)
Piranha III Kapris (Command vehicle)
Desert Piranha 5 (Wheeled armoured personnel carrier)
Piranha 6x6 (Wheeled armoured personnel carrier)
Piranha (Fire support vehicle)
Piranha (Self-propelled mortar)
Piranha (Reconnaissance Vehicle)
Piranha IIIC (Ambulance vehicle)
Piranha IIIC (Reconnaissance Vehicle)
Piranha IIIC (Wheeled armoured personnel carrier)
Piranha Evolution (Wheeled armoured personnel carrier)
Piranha V (Wheeled armoured personnel carrier)
Piranha IIIH (Wheeled armoured personnel carrier)
Piranha IIIH CRV (Reconnaissance Vehicle)
Piranha III ASV (Reconnaissance Vehicle)
Piranha EVO (Wheeled armoured personnel carrier)
Piranha III REB (Armoured vehicle-launched bridge)
Piranha III CBRN (Nuclear/biological/chemical reconnaissance vehicle)
Piranha III+ (Wheeled armoured personnel carrier)
Discuss