SPIKE LR II - 5th Generation multi-purpose, multi-platform precision-guided missile
Category: Defence Industry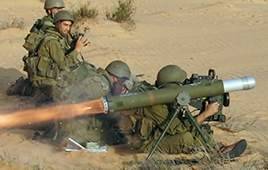 Rafael Advanced Defense Systems Ltd. unveils SPIKE LR II, a new 5th generation variant of the SPIKE Family that can be fired from vehicles, helicopters, ships, and ground launchers. The new missile will be presented for the first time at the Paris Air Show in June. Rafael has supplied over 27,000 SPIKE Missiles and systems to over 26 countries.
SPIKE LR II is an advanced multipurpose missile, weighing only 12.7 kg, designed for modern warfare with almost full commonality to the SPIKE Missile legacy and can be launched from any SPIKE Launcher.
For increased lethality, SPIKE LR II includes two unique state-of-the-art advanced and highly capable warhead configurations: a Tandem HEAT warhead configuration, enhancing armor penetration capability by more than 30%, and a new multipurpose blast warhead, which includes controlled fusing (by the gunner) for control of the desired effect.
SPIKE LR II has a range of 5.5 km when fired from ground launchers (an increase of more than 35% above the 4 km range of the original SPIKE LR) and up to 10 km when fired from a helicopter (using alternative option of RF Data link).
The SPIKE LR II has a modern electro-optical seeker which includes a high quality un-cooled IR sensor and an advanced high definition color day sensor. The new seeker includes capabilities of a smart target tracker with AI features (Artificial Intelligence).
SPIKE LR II was designed against new modern targets with low signature, time-sensitive characteristics. To counter this SPIKE LR II includes an embedded IMU (Inertial Measurement Unit) for missions of third party-target allocation, allowing the firing of the missile to grid target coordinates, including advanced armor and protection systems. The SPIKE LR II is one of the only missiles in the world with an inherent CAPS capability.
Mr. Moshe Elazar, Executive Vice President and Head of Rafael's Land and Naval Systems Division stated that the new missile addresses the complex challenges of the modern battlefield. "The development of the SPIKE LR II is based on Rafael's vast experience in the development of a wide variety of missiles over the years, and was largely possible due to Rafael's close cooperation with the users at the IDF and other militaries around the world."
Rafael
06.09.2017

Share...





BAE Systems` CV90 increases lethality by testing SPIKE LR anti-tank guided missile
14.01.2020
Rheinmetall unveils the Lynx KF41 Next-Generation Combat Vehicle
18.06.2018
General Dynamics European Land Systems presents a new variant of PIRANHA IFV at the HEMUS Exhibition 2018
04.06.2018
Oshkosh Defense Showcases JLTV Vehicles With Next Generation Weapon Integration Capabilities At AUSA 2017
10.10.2017
RAFAEL Armament Development Authority Ltd.
RAFAEL Ordnance Systems Division
Spike-LR (Anti-tank guided missile launcher)
Spike-ER (Anti-tank guided missile launcher)
Spike-MR (Anti-tank guided missile launcher)
Spike-SR (Anti-tank guided missile launcher)
Discuss