Otokar submitted its Best and Final Offer for Altay Serial Production
Category: Defence Industry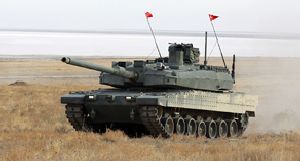 Turkey's leading land systems manufacturer Otokar submitted it best and final offer (BAFO) regarding the serial production of Altay Main Battle Tank Project to Undersecretariat for Defence Industries (SSM) on February 8th within the scope of the "Modern Tank Production Project by using National Sources".
In 2008, Turkey's biggest privately owned defence company Otokar had been awarded as the prime contractor for the development, design, prototype and qualification processes of Altay Main Battle Tank. The qualification and acceptance tests of the prototypes produced in the first phase were successfully completed, and prototypes approved in February 2017. While the inspection and approval process of the Technical Data Package (TDP) by the Undersecretariat for Defence Industries is ongoing, The Undersecretariat for Defence Industries (SSM) released the Call to Bid Document for Altay's 'Serial Production' and 'Integrated Logistics Support' services in July. Otokar had submitted its first proposal for this tender on November 16th, 2017.
Otokar General Manager Serdar Görgüç commented on the serial production of Altay: "With 55 years of experience and capabilities, Otokar is one of the leading armoured vehicles manufacturers of the region. Our vehicles are used in over 30 countries by more than 50 different users. We have succesfully completed all the tasks we have undertaken. In "Altay Main Batle Tank Design and Qualification Project" Otokar, as the prime contractor, successfully designed and developed Altay and did the project management of this complex project. With the investments we made in this process, the experience we gained, and enhanced R&D capabilities, Otokar captured a strategic momentum in its position in the defence industry. As Turkey's leading land defence systems company, Otokar has no foreign shares, it is purely a national company and we are a publicly listed company, providing full transparency throughout all our operations. With all the competencies and qualifications required for the serial producing Altay, we are ready for the task. Our wish is for the main battle tank Altay to start serving the Turkish Armed Forces as early as possible."
Görgüç continued; "We prepared a cost effective, sound and viable proposal with minimum risk and submitted as our BAFO (best and final offer) to Undersecretariat for Defence Industries (SSM). The Otokar proposal was created within the scope of timely response to the urgent needs of the Turkish Armed Forces. Meanwhile, we worked on all the infrastructure requirements and planned the production lines to be prepared for launching production as early as possible with the signing of the agreement for Altay's serial production, and obtained the necessary Manufacturing Permit from the Ministry of Defence. In addition to planning the production required by the Land Forces, Otokar also made annual capacity plans for export potential as well as the possible needs for main battle tank derivatives including mine clearing, recovery and engineering vehicles.
ALTAY: New generation main battle tank
Designed and developed to meet the requirements and needs of the Turkish Land Forces against present and future threats, Altay is one of the world's most modern main battle tank with its specifications. The main battle tank, standing out with its increased survivability, mobility and firing power, has delivered superior performance in challenging tests conducted in all climatic and terrain conditions for the last two years.
Sergyi Way
22.02.2018



www.army-guide.com
Share...





Otokar offers solutions with technology transfer and local manufacturing models
13.09.2019
AKREP II electric armored vehicle presented in Turkey
25.04.2019
Otokar Receives $28.9 Million Contract for its Armored Vehicles
31.07.2018
Otokar debuts its Light Tank in Paris
19.06.2018
OTOKAR Otobus Karoseri Sanayi A.S.
Discuss