Russian Ministry of Home Affairs is to procure 48 Tiger vehicles from GAS
Category: Defence Industry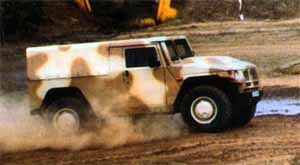 Deputy Home Minister of Russia, Michael Soukhodolskiy, told journalists on Friday, that Russian Ministry of Home Affairs is planning to procure 48 Tiger 8x8 armoured vehicles from Gorky Automotive Plant (GAS), Nizhniy Novgorod.
Deputy minister informed that 22 Tiger vehicles were procured last year. Maintenance trials showed certain defects, which have already been eliminated by the GAS plant.
In 2003 GAS finished main pre-production trials of the cross-country vehicle GAS-2975 Tiger, that cost 143 rubles. The performance capability is up to 500 cross-country vehicles a year.
Special Police Vehicle (SPV) GAS-233036 "Tiger" is developed as a personnel carrier and command post for anti-terrorist, convoy operations and must provide small arms and blast protection.
SPV Tiger armoured vehicle was given the 5th protection level. The equipment includes firing ports, two roof hatches, the crew department provides space to deploy radio station and reinforced interference suppressor.
The SPV Tiger vehicles also have turbo-diesel cooled supercharged air powerpack and mechanical six-speed gear box. Independent torsion suspension and powereful engine provides good on-road and cross-country performance.
Sergyi Wey
16.03.2006



www.army-guide.com
Share...





At the Army-2019 will be presented a new version of the Tiger armored vehicle.
24.06.2019
Tigr at Tank Days in Slovakia
12.07.2016
Tiger sneaks into Europe
03.06.2016
Textron Marine & Land Systems Presents Tiger Light Protected Vehicle to Slidell Police Department
06.08.2013
GAZ-2330 STS Tiger (Tactical vehicle)
Tiger (Reconnaissance Vehicle)
VPK-233136 Tiger-M (Tactical vehicle)
China Tiger (Wheeled armoured personnel carrier)
Tiger Next/AMN-2 (Tactical vehicle)
Discuss