Sweden and the Netherlands Order Kodiak Armoured Engineer Vehicles from Rheinmetall
Category: Contracts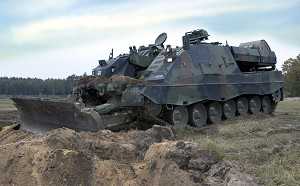 The Swedish procurement authority, FMV, and The Netherlands Ministry of Defence procurement authority have placed orders with Rheinmetall for the Kodiak armoured engineer (breaching) vehicle.
The total value of the orders is approximately EUR100 million. Signed on January 16, 2008, the contracts include ten systems for the Dutch Army, and six for the Swedish Army. The vehicles will be delivered during the period 2011-2012.
Apart from its prime function as a heavy-duty combat engineer vehicle for use in military operations and disaster relief, the Kodiak can serve in a mine-clearing role, protecting troops deployed in harm's way. Rheinmetall manufactures and markets the Kodiak in a consortium together with Swiss defence contractor RUAG Land Systems.
Based on a bilateral agreement between the two countries, the joint orders represent an innovative way of reducing costs. The two nations have effectively harmonized their procurement programs, particularly with regard to the configuration of the vehicles and uniform logistics.
Although both governments have signed separate, equally valid contracts with Rheinmetall, the programme is being carried out jointly on the basis of a harmonized central plan. This makes it possible to substantially reduce the non-recurring costs as well as bringing advantages with regard to purchasing and production. Following the Swiss Army, the Dutch and Swedish will be among the first to augment their existing inventories of Leopard 2 main battle tanks and "Bergepanzer 3" armoured recovery vehicles with the new Kodiak armoured engineer vehicle, which will increase their engineer capacity significantly.
Built on a Leopard 2 chassis, the Kodiak armoured engineer vehicle can be fitted with a mine-plough for clearing lanes through minefields.
The Kodiak is equipped with a high performance hinged-arm excavator with a quick-release coupling for deploying additional combat engineering tools. It also features a bulldozer blade with adjustable cutting and tilt angles as well as a double-winch system consisting of two 9 t capstan winches.
To defend itself, the Kodiak is armed with a remote control weapon station and smoke grenade launcher. Moreover, it features the same level of anti-landmine protection as the Leopard 2 main battle tank. For the Dutch vehicles the crew compartment will have additional bomblet protection.
Sergyi Way
17.01.2008



www.army-guide.com
Share...





Rheinmetall MAN Survivor R special protected vehicle on show at GPEC 2020 international security exhibition in Frankfurt/Main
24.02.2020
Rheinmetall books ˆ110 million-contract to extend the service life of the Marder infantry fighting vehicle for the Bundeswehr
21.01.2020
Denmark and Germany receive the latest versions of the LEOPARD 2
07.11.2019
Rheinmetall to Feature Next Generation 130mm Tank Gun at AUSA Global
04.11.2019
Rheinmetall MAN Military Vehicles GmbH - RMMV
Rheinmetall Verseidag Ballistic Protection GmbH
Rheinmetall Soldier Electronics GmbH
Rheinmetall AG, Representative Office Abu Dhabi
Rheinmetall Waffe Munition GmbH
Rheinmetall Defence Electronics GmbH
Rheinmetall Waffe Munition Arges GmbH
American Rheinmetall Munitions, Inc. - ARM
Rheinmetall Denel Munition (Pty) Ltd - RDM
LAV III Kodiak (Wheeled armoured personnel carrier)
Leopard 2 Strv 122 (Main battle tank)
Kodiak AEV 3 (Engineer vehicle)
Leopard 2 Strv 121 (Main battle tank)
Leopard 2/Pz87 (Main battle tank)
Lahat Leopard 2 (Modernization of the vehicle)
Discuss