U.S. to send reinforced APCs to replace vulnerable Humvees
Category: Defence Industry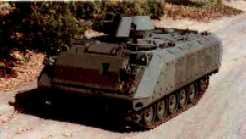 The U.S. Army has plans to deliver reinforced armored personnel carriers to Iraq.
Officials said the army has been overseeing a project to install add-on armor on surplus M113 and M577 APCs deployed in Iraq. They said the project was meant to bolster protection of combat troops where speed was not critical.
So far, the army plans to send more than 700 reinforced APCs to Iraq in an $84 million project, Middle East Newsline reported. The use of the M113A3s and the M577s would replace the Humvee utility vehicles, which have largely failed to protect U.S. troops from improvised explosive devices, or roadside bombs, in Iraq.
"These additional vehicles will provide much needed protection while we await the delivery of more modern up-armored Humvees," Rep. Ike Skelton of Missouri, the ranking Democrat on the House Armed Services Committee, said.
The army has set a requirement for add-on armor kits for the Humvees and other vehicles at more than 13,000. Armor Holdings produces the armor kits and has maintained a production level of 550 a month.
Officials said the use of the up-armored APCs was regarded as an interim measure as the Defense Department develops medium- and long-term armor solutions. They said the army and Marine Corps have been designing armored jeeps and other combat vehicles that could support add-on armor and protect against IEDs.
Congress has urged the Pentagon to replace many of the Humvees deployed in Iraq with M113s and other APCs. Officials said, however, that the up-armored M113s were deemed as being too slow to participate in combat patrols.
Officials said the up-armoring of the APCs has taken place in Kuwait, with U.S. Navy and Air Force mechanics stationed to help in the effort. The Third Army, based in Kuwait, has been up-armoring about 50 Humvees and trucks per week. Officials said the attrition rate of the up-armored vehicles has been high because of the extra weight.
World Tribune.com
15.05.2005
worldtribune.com
Share...





Unmanned Vehicle Demo Showcases Leap-Ahead Technology
25.03.2014
LM to Build JLTV at Award-Winning Facility in Camden, Arkansas
16.10.2013
Army sees 10,000 CROWS manufactured
27.03.2012
US Army Drives Ahead With JLTV Program
28.01.2012
M113A3 (Tracked armoured personnel carrier)
M113A3 (Modernization of the vehicle)
M113A3 (Modernization of the vehicle)
Discuss