AxleTech International announces release of new independent suspension model
Category: Defence Industry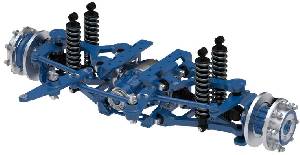 Troy, Michigan – AxleTech International has shipped the first custom order of their newest 2000 Series model of independent suspensions and is releasing standard versions of Independent Suspension Axle Systems (ISAS) to their customer base this month.
The 2000 Series ISAS is engineered for lightweight tactical and combat vehicles with a Gross Vehicle Weight Rating (GVWR) of up to 15,400 lb (7,000 kg). Like AxleTech's other independent systems, the 2000 Series features the company's double-wishbone design for unrivaled ride control and handling with superior cross-country mobility and safety in various terrains. "Our commitment to our customers is to continuously provide the best custom-engineered drivetrain components and systems to support mission requirements. We have designed the 2000 Series ISAS specifically to fill the gap for 6 to 7.5 ton vehicles that are lacking independent suspensions today", said Tyler Bean, Vice President of OE Sales at AxleTech International.
AxleTech offers the largest range of independent suspension systems with axle payloads from 3 to 15 tons. AxleTech's ISAS product line is the leader in its class and has been selected by more defense vehicle OEMs on more continents than any other system.
AxleTech also provides planetary steer and rigid axles with ratings from 3 to more than 120 tons, as well as transfer cases and drop boxes.
AxleTech
05.12.2015

Share...





Axletech Reveals Electric Independent Suspension Concept Aa Eurosatory 2018
19.06.2018
AxleTech International unveils industry-first independent suspension system at ICUEE
08.10.2017
AxleTech International and Thales announce long-term supply agreement
25.07.2017
AxleTech International exhibits new independent suspension at IDEX
25.02.2017
Discuss