Axletech Reveals Electric Independent Suspension Concept Aa Eurosatory 2018
Category: Exhibitions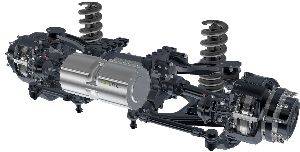 AxleTech is combining its expertise in electric vehicle powertrain systems and independent suspension technologies to develop a next-generation 5000 Series Electric Independent Suspension Axle System concept. The eISAS™, as it is known, was unveiled at Eurosatory 2018, the largest international defense and security exhibition, in Paris, France.
Featuring custom-designed electric motors as part of the axle, this innovative concept acts as a complete electric powertrain system, eliminating the need for a traditional drivetrain, including engine, transmission, and gearboxes, which results in maintenance cost savings. The system is engineered for full battery electric vehicles (BEV), fuel cell range extender electric vehicles (FCEV), and internal combustion engine (ICE) or turbine generator range extenders (REV). In considering the modernization of military fleets, AxleTech's 5000 Series eISAS concept enhances performance and has the ability to provide improved stealth characteristics, lower heat signatures, and improved fuel savings to logistics vehicles, tactical vehicles, and armored personnel carriers.
"Not only is AxleTech the largest independent suspension system supplier in the defense industry, our engineering expertise, field-proven products, and lifetime service support are unmatched and make us a trusted partner to vehicle manufacturers in the military and commercial markets globally," said Bob Nichols, Senior Manager, Sales, Electric Vehicle Systems at AxleTech. "Our team is relentless in identifying ways to improve our products and technology to benefit customers. The 5000 Series eISAS is an example of this mindset – we look forward to working with customers to customize it for future applications."
Along with offering the advantages of an independent suspension system, AxleTech's 5000 Series eISAS concept offers a superior electric solution. Unlike standard axles, the new concept will provide maximum regenerative braking capability, which allows the energy from braking to recharge the vehicle's batteries, and improved efficiencies. Additionally, once produced, the eISAS concept axle will utilize parallel axis gearing instead of traditional bevel gearing, thereby maintaining the axle ground clearance and allowing for maximum torque to the wheels.
While the 5000 Series eISAS concept is intended to be a highly efficient solution for future vehicles with a gross combination weight rating (GCWR) up to 58,000-pound (26.3 T) capacity, AxleTech plans to develop similar powertrain concepts for lighter load vehicles as part of its forward-thinking strategy to electrify military and commercial applications. The production of these eISAS concepts will be based on customer demand for the technology.
AxleTech has supplied independent suspension systems to the military for more than 25 years and has over 60 fielded vehicle programs for its ISAS products. With facilities located around the world, the company provides global customers with a full-purchase experience. Each independent suspension system is custom-engineered to meet a vehicle's exacting needs and the company provides on-call service support for its products globally.
At Eurosatory 2018, which runs June 11-15, AxleTech will show an animation of the 5000 Series eISAS concept as well as other advanced military solutions, including 2000 Series ISAS®, T600 transfer case, hydraulic disc brakes, and heavy-duty gears in its booth (USA Pavilion, B648).
Axletech
19.06.2018

Share...





AxleTech International unveils industry-first independent suspension system at ICUEE
08.10.2017
AxleTech International and Thales announce long-term supply agreement
25.07.2017
AxleTech International exhibits new independent suspension at IDEX
25.02.2017
AxleTech International builds first axle in new manufacturing facility in India
15.01.2016
Discuss