Contracts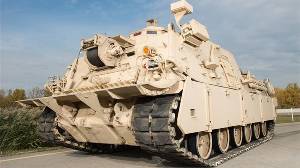 The U.S. Army has awarded BAE Systems a contract modification worth $109.7 million to convert 36 M88A1 recovery vehicles to the M88A2 Heavy Equipment Recovery Combat Utility Lift Evacuation Systems (HERCULES) configuration.

The conversions allow the M88A2s to recover the Army's heaviest vehicles, such as tanks, without the assistance of another vehicle.

"The HERCULES is an integral part of the Army's Armored Brigade Combat Team and is essential to its recovery missions," said John Tile, director of Recovery Programs at BAE Systems. "The ability to provide single-vehicle recovery for even the heaviest vehicles in today's fleet increases troop safety and provides significant cost savings to the Army."

< ...
---
28.04.2016 Visits - 220
Defence Industry

RICHARDSON, TX -- Optex Systems, Inc., a wholly owned subsidiary of Optex Systems Holdings, Inc., a leading manufacturer of optical sighting systems and assemblies for domestic and foreign militaries, today announced that it has received $841,000 in orders for its laser protected periscopes with an option for an additional $841,000 from the U.S. Army Contracting Command.
---
23.04.2016 Visits - 548
Defence Industry

Rochester, NY -- AT Communication International (AT Comm) today announced that it has expanded its global operations and has established its United States headquarters in Rochester, New York. The new headquarters and company, AT Communication US, Inc. enables closer support and assistance to the US Government and its other US customers to deliver critical military and security technology requirements to coalition partners.
---
23.04.2016 Visits - 543
Contracts

WFEL — manufacturer of rapidly-installed, mobile military bridges — has been awarded an initial contract by the UK MoD to undertake an Assessment Phase Programme, as part of the review to sustain the Heavy Forces Close Support Bridge (CSB) and General Support Bridge (GSB) capability, currently being provided by the BR90 system, to support UK forces out to 2040. A primary objective of this programme is to provide the Heavy Forces with an MLC 100 (Tracked) capability in order to support unrestricted crossing by UK Heavy Forces by 2022.
---
14.04.2016 Visits - 1129
Contracts

BAE Systems will produce Assault Amphibious Vehicles for the Japanese Ministry of Defense under a new $149 million contract.
---
12.04.2016 Visits - 1266
Contracts
Tata Motors have signed a follow-on contract for the supply of an additional 619 units, of its high-mobility (HMV) 6X6 multi-axle truck, from the Indian Army. Being built with a material handling crane, the Tata 6X6 HMV is meant for the loading-unloading and transportation of ammunition pallets, spares and other operational equipment.
---
01.04.2016 Visits - 1849
Contracts

The Swedish government has awarded BAE Systems a contract to refurbish 262 Combat Vehicles 90 (CV90) for the Swedish Army. The company's work will include refurbishing the chassis and upgrading the vehicle's survivability and turrets, as well as enhancing combat system performance. Together, these efforts will help increase the vehicles' lifespan in support of Army capabilities.
---
01.04.2016 Visits - 1709
Exhibitions

TATRA TRUCKS will present their products at the trade fair of defense technology Defexpo India 2016, which will be held from 28 to 31 March 2016 in India, in the town of Quitol, the state of Goa.
---
31.03.2016 Visits - 1946
Defence Industry

Oshkosh Defense, LLC, an Oshkosh Corporation company, announced today that the U.S. Army has placed an order for the Joint Light Tactical Vehicle (JLTV) program including 657 vehicles, 2,977 installed kits and related support. The order, which will serve both the U.S. Army and Marine Corps, is valued at more than $243 million.
---
26.03.2016 Visits - 1907
Contracts

Oshkosh Defense, LLC, an Oshkosh Corporation company, will recapitalize 1,212 Family of Heavy Tactical Vehicles (FHTV) and produce 345 trailers following multiple orders from the U.S. Army valued at more than $430 million. Oshkosh will upgrade the Army's fleet of Heavy Expanded Mobility Tactical Trucks (HEMTT) and Palletized Load Systems (PLS) to provide the same performance and life cycle cost advantages as new production vehicles. All work performed under the contract will be completed in Oshkosh, Wis., with deliveries occurring from 2016 to 2017.
---
26.03.2016 Visits - 1790
Defence Industry

The U.S. Marine Corps awarded Science Applications International Corp. a prime contract worth $121.5 million to build 13 prototypes for the Engineering, Manufacturing and Development (EMD) of the Amphibious Combat Vehicle Phase 1, Increment 1 (ACV 1.1).
---
19.03.2016 Visits - 2133
Defence Industry

Today, KONGSBERG has entered into an agreement with the Finnish state for the purchase of 49.9 % of the shares in Patria for EUR 272 million. Patria is Finland's leading defence supplier and owns 50 % of the shares in the Norwegian company Nammo. The partnership will be a leading defence supplier in the Nordics, and a considerable supplier on the European defence market, with total gross revenues of NOK 13.4 billion in 2015.
---
19.03.2016 Visits - 1955
Exhibitions

Oshkosh Defense, LLC, an Oshkosh Corporation (NYSE: OSK) company, will showcase its Joint Light Tactical Vehicle (JLTV) at the Association of the United States Army (AUSA) Global Force Symposium in Huntsville, Ala. on March 15-17, 2016. The Oshkosh JLTV is the next-generation light tactical wheeled vehicle with an unprecedented combination of protection, mobility, transportability and net-ready systems integration that delivers the network capability of a mobile command center.
---
16.03.2016 Visits - 2046
Contracts
A European procurement agency has awarded Rheinmetall a major order for ordnance.
---
12.03.2016 Visits - 2176
Defence Industry
Following a £390 million commitment to the Ajax armoured vehicle by the Ministry of Defence (MOD), General Dynamics UK decided to turn the former Linde Forklift Truck factory in Merthyr Tydfil into an assembly, integration and testing centre for Ajax.
---
08.03.2016 Visits - 2620