Robots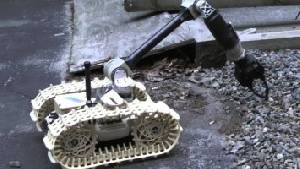 RE2 Robotics has received a small business innovation research (SBIR) Phase II contract to develop automated robotic technology capable of assisting combat medics in the field.
The $1m contract was awarded by the US Army SBIR office and US Army Telemedicine and Advanced Technology Research Center (TATRC).
Under the contract, RE2 Robotics will develop a new medical module payload for military ground vehicles, called Lifeline, that will enable medics to evacuate soldiers.
RE2 Robotics president and CEO Jorgen Pedersen said: "Our team is honoured that the army has selected RE2 once again to further develop technology to help improve the safety of our brav ...
---
12.01.2017 Visits - 3750
Robots
QinetiQ North America (QNA), a subsidiary of QinetiQ Group which delivers world-class technology and revolutionary products to defense, security and commercial markets worldwide, and Persistent Systems, LLC (Persistent), the leader in Mobile Ad hoc Network (MANET) Technology and developers of the Wave Relay® system, today announced a long-term agreement to offer for integration Persistent's MANET radio products into QNA's TALON® and Dragon Runner® ground robots. The MANET relay radio can connect QNA's ground robot family with a reliable, high throughput, and long range MANET communication system that is self-forming, self-healing, and scalable.
---
12.01.2017 Visits - 3137
Contracts
HAIFA, Israel -- Elbit Systems Ltd. announced that a Brazilian subsidiary, Ares Aeroespacial e Defesa S.A., was awarded a framework contract, in a total value of approximately $100 million, to supply 12.7/7.62 mm Remote Controlled Weapon Stations ("RCWS") to the Brazilian Army.
---
11.01.2017 Visits - 3705
Contracts

OSHKOSH -- Oshkosh Defense, LLC, an Oshkosh Corporation company, announced that the U.S. Army has placed another order for the Joint Light Tactical Vehicle (JLTV) program including 409 vehicles, 1,984 installed kits, 82 packaged kits and related services and support. The order valued at more than $176 million, is the fourth order for JLTVs since the contract was awarded in August 2015.
---
05.01.2017 Visits - 5225
Contracts

The orders with the U.S. Army are for delivery of Low Profile CROWS («Common Remotely Operated Weapon Station») configuration for the M1A2 Abrams Main Battle Tank. The orders are related to the CROWS contract signed in August 2012.
---
30.12.2016 Visits - 6868
Contracts
Munich/Koblenz -- On behalf of the Dutch procurement office (DMO), the German Federal Office of Bundeswehr Equipment (BAAINBw) signed an agreement with Krauss-Maffei Wegmann (KMW) for the procurement of five Leguan bridge layer systems on Leopard 2 chassis on 20 December, 2016.
---
26.12.2016 Visits - 6911
Defence Industry
Rheinmetall has been awarded a Challenger 2 Life Extension Programme (CR2 LEP) Assessment Phase contract by the United Kingdom Ministry of Defence.
---
25.12.2016 Visits - 6738
Defence Industry

BAE Systems has received a 575 million SEK ($68 million) contract for the installation of vehicle mounted mortar systems on Swedish Army CV90 Infantry Fighting Vehicles.
---
25.12.2016 Visits - 6802
Defence Industry

BAE Systems has received a contract from the Netherlands for the testing and verification of Active Protection Systems (APS) on its CV90 Infantry Fighting Vehicles.
---
25.12.2016 Visits - 6620
Defence Industry
Team Challenger 2, a consortium of companies led by BAE Systems, has signed a contract with the UK Ministry of Defence (MOD) for the Challenger 2 Life Extension Project (LEP) Assessment Phase.
---
25.12.2016 Visits - 6382
Contracts

The Düsseldorf-based tech enterprise Rheinmetall AG has won a major follow-on order from the German Bundeswehr.
---
16.12.2016 Visits - 6873
Defence Industry

The State Department has made a determination approving a possible Foreign Military Sale to the Government of Kuwait for recapitalization of 218 M1A2 tanks and related equipment, support, and training. The estimated cost is $1.7 billion. The Defense Security Cooperation Agency delivered the required certification notifying Congress of this possible sale on December 12, 2016.
---
16.12.2016 Visits - 7563
Defence Industry

BAE Systems rolled out the first of 16 Amphibious Combat Vehicle (ACV) 1.1 prototypes to the U.S. Marine Corps in a ceremony today at the company's York, Pennsylvania facility.
---
16.12.2016 Visits - 6584
Defence Industry

The AMPV provides the Army with enhanced mobility, survivability, force protection, and combat superiority.
---
16.12.2016 Visits - 6580
Robots

Milrem, the Estonian defence solutions provider and ST Kinetics, one of Asia's leading land systems companies, came one step closer to helping support or replace soldiers on the battlefield with robots in November when they successfully tested the first weaponized fully modular unmanned ground vehicle, the THeMIS ADDER.
---
02.12.2016 Visits - 8094