Training And Simulators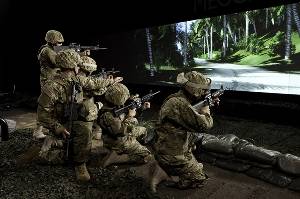 Meggitt Training Systems (Quebec) Inc. has been awarded a $25 million, three-year contract from Public Works Government Services Canada on behalf of the Department of National Defence, to provide in-service support to the Canadian Armed Forces for Meggitt's Small Arms Trainer (SAT) and Indirect Fire Trainer (IFT).
The contract includes operator and maintenance support for related training activities, incorporating onsite support for health, usage and equipment monitoring at major bases across Canada.
The Meggitt SAT simulator system supports individual and group training across the spectrum of military, paramilitary and security operations. Meggitt's IFTs are used to train soldiers in forward observer, fire direction center and mortar crew skills proficiency.
"Meggitt has been a proud sup ...
---
26.08.2015 Visits - 530
Defence Industry

OSHKOSH, Wis. -- The U.S. Army Tank-automotive and Armaments Command (TACOM) Life Cycle Management Command (LCMC) has awarded Oshkosh Defense, LLC, an Oshkosh Corporation (NYSE: OSK) company, a $6.7 billion firm fixed price production contract to manufacture the Joint Light Tactical Vehicle (JLTV).
---
26.08.2015 Visits - 595
Contracts

HAIFA, Israel -- Elbit Systems Ltd. announced that it was awarded an approximately $27 million contract for the supply of command and control systems and ATMOS long-range artillery systems to an Asia-Pacific country. This contract is a follow-on contract for this customer and will be performed over a three-year period.
---
20.08.2015 Visits - 877
Defence Industry

FNSS' Brand New SABER 25mm One Man Turret successfuly completes firing qualification tests on FNSS PARS 8x8 Infantry Fighting Vehicle.
---
13.08.2015 Visits - 1052
Future Technologies

DALLAS -- The Lockheed Martin Joint Light Tactical Vehicle (JLTV) Team continues to produce company-funded Production Representative Vehicles (PRVs) at its Camden, Arkansas, production facility.
---
04.08.2015 Visits - 1565
Defence Industry

iRobot Corp. a leader in delivering robotic technology-based solutions, has received a $9.8 million order from the U.S. Marine Corps Systems Command for 75 SUGV robot systems. All deliveries under the order will be completed by Q2 2016.
---
04.08.2015 Visits - 1230
Defence Industry

Rheinmetall has won an important order in connection with a key programme of the British Ministry of Defence to procure a new generation of combat vehicles for Her Majesty's Armed Forces. Lockheed Martin UK has contracted with Rheinmetall's Defence arm to manufacture the turret structures for the British Army's new Scout SV Reconnaissance vehicle. The order, issued in London, is worth a total of ˆ130 million and covers production of up to 245 units. Rheinmetall also participated significantly in the preceeding technical demonstration phase.
---
03.08.2015 Visits - 1410
Contracts
Thales is announcing today the award of a £125M contract for the supply of Sighting Systems and Ancillary Equipment to General Dynamics UK for the Production Phase of the UK MoD's Specialist Vehicle (SV) programme.
---
30.07.2015 Visits - 1750
Army

The Defence Secretary has announced that the Ministry of Defence (MoD) has awarded a £150 million contract to supply a new cannon capability for the UK Armed Forces.
---
29.07.2015 Visits - 1308
Defence Industry

General Dynamics UK has been awarded a £390 million contract by the UK Ministry of Defence (MoD) to provide in-service support for the SCOUT Specialist Vehicle (SV) fleet until 2024. In addition, the company is opening a new Armoured Fighting Vehicle (AFV) Assembly, Integration and Testing (AIT) facility in South Wales.
---
24.07.2015 Visits - 1373
Contracts

CHARLOTTE, N.C. -- Curtiss-Wright Corporation announced that its Defense Solutions division has received a production award from Lockheed Martin to provide the Turret Drive Servo System (TDSS) for use in the British Army's new SCOUT Specialist Vehicle (SV). Curtiss-Wright's TDSS will provide weapon stabilization for the SCOUT Reconnaissance vehicle, which is expected to replace the older Scimitar vehicle.
---
20.07.2015 Visits - 1489
Defence Industry
Tata Motors has bagged an order to supply around 1,200 vehicles of its high-mobility 6X6 multi-axle trucks, from the Indian Army – the single largest order awarded to an Indian private original equipment manufacturers (OEM) in land systems under the DPP by the Indian army. The order for 6X6 vehicles is for 'material handling cranes' for the loading-unloading and transportation of ammunition pallets, spares and other operational equipment.
---
15.07.2015 Visits - 1810
Defence Industry

End June 2015 the 300 BOXER vehicles has been delivered to the customers according to contract.
---
10.07.2015 Visits - 2321
Defence Industry

Exelis C-OTM Mobile Command Center Communcation
---
10.07.2015 Visits - 1803
Contracts

The U.S. Army has awarded BAE Systems a contract worth $110.4 million to convert 36 M88A1 recovery vehicles to the M88A2 Heavy Equipment Recovery Combat Utility Lift Evacuation Systems (HERCULES) configuration.
---
07.07.2015 Visits - 1634