Defence Industry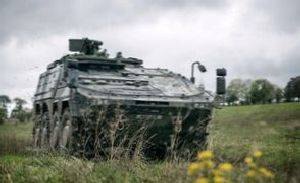 A contract worth £2.8 billion has been signed to provide state-of-the-art armoured fighting vehicles to the British Army. The Defence Secretary has announced that the army will receive more than 500 Boxer 8x8 high mobility, network-enabled armoured vehicles to transport troops onto the frontline.
Defence Secretary, Ben Wallace, said:
"Our men and women of the Armed Forces deserve to have the best equipment to do their job."
"The Boxer vehicle is a leader in its field and I look forward to it arriving in units from 2023."
The vehicles will form part of the Army's Strike brigades, new units set up to deploy rapidly over long distances across varied terrains.
Boxer is modular by design to meet these requirements - the same vehicle base can be rapidly reconfigu ...
---
11.11.2019 Visits - 564
Defence Industry
BAE Systems has received a $120 million contract from the U.S. Marine Corps for additional Amphibious Combat Vehicles under a third order for Low Rate Initial Production (LRIP).
---
11.11.2019 Visits - 637
Defence Industry
Munich -- Krauss-Maffei Wegmann (KMW) has handed the latest versions of the Leopard 2 over to Denmark and Germany. Frank Haun, Chairman of the Board of KMW, presented the symbolic keys of the first two vehicle systems to the Ambassador of the Kingdom of Denmark, Friis Arne Petersen, and the Parliamentary State Secretary of the Federal Ministry of Defence, Dr. Peter Tauber.
---
07.11.2019 Visits - 678
Future Technologies

Rheinmetall will showcase the Group's next generation 130mm tank armament at the largest land warfare conference and tradeshow in North America: the Association of United States Army annual meeting (AUSA 2019) taking place in Washington DC, 14-16 October 2019.
---
04.11.2019 Visits - 903
Robots

Rheinmetall Defence is one of the world's leading providers of combat and tactical vehicles and is a global leader in developing next generation robotic, remote and autonomous combat vehicle capabilities. Rheinmetall will showcase its capabilities at the largest land warfare tradeshow in North America: the Association of United States Army annual meeting (AUSA 2019) taking place in Washington DC, 14-16 October 2019. On display will be a Wiesel/Weasel fighting vehicle, the platform that forms the basis for Rheinmetall's innovative "Wiesel Wingman" autonomous combat vehicle concept for the US Army Robotic Combat Vehicle – Light program. The Wiesel Wingman brings together capabilities of Rheinmetall's "Wiesel Digital" and Mission Master UGV vehicle platforms.
---
04.11.2019 Visits - 844
Exhibitions
BAE Systems, a leader in radio-frequency and optical electronic warfare systems, unveiled its RAVEN Countermeasure™ system for combat vehicles as part of its integrated vehicle protection system (VPS) suite of products. RAVEN is a proven directable infrared countermeasure capable of defeating anti-tank guided missiles, protecting ground vehicles and their crews, and improving mission effectiveness without the use of kinetic countermeasures.
---
15.10.2019 Visits - 1444
Robots

The RTD prototype leverages decades of BAE Systems expertise in the design and development of combat vehicles, as well as advanced electronic systems.
---
15.10.2019 Visits - 1421
Contracts
Rheinmetall is taking on an important role in the modernization of the Hungarian Army. The Düsseldorf-based Group is producing the main armament and fire control technology for forty-four Leopard 2 main battle tanks as well as the main armament, fire control technology and chassis for twenty-four PzH 2000 self-propelled howitzers. The package also encompasses thirteen HX and TGS logistic trucks. The contract, worth around ˆ300 million, was recently signed. Delivery begins in 2021 and will be completed in 2025.
---
02.10.2019 Visits - 1785
Defence Industry
DETROIT, MI, -- Raytheon Company and Rheinmetall Defence have established a joint venture to offer the Lynx Infantry Fighting Vehicle for the U.S. Army's Optionally Manned Fighting Vehicle, or OMFV, competition. The U.S.-based joint venture is called Raytheon Rheinmetall Land Systems LLC.
---
02.10.2019 Visits - 1897
Contracts

Iveco Defence Vehicles, a company of CNH Industrial N.V., announced today that it has been awarded a contract by the Dutch Ministry of Defence to provide 1275 medium multirole protected vehicles denominated "12kN".
---
24.09.2019 Visits - 2249
Exhibitions

General Dynamics Land Systems–UK is showcasing its highly-adaptable Foxhound 4×4 vehicle at Defence and Security Equipment International (DSEI) 2019.
---
23.09.2019 Visits - 2040
Robots
General Dynamics UK has today announced that it has been selected to participate in the British Army Warfighting Experiment 2019 (AWE'19) following the acceptance of its proposal for Manned Unmanned-Teaming (MUM-T), which was submitted to the UK Defence and Security Accelerator (DASA) earlier this year.
---
23.09.2019 Visits - 1950
Exhibitions

Otokar, a Koç Group company, will participate in the 20th edition of DSEI on 10-13 September 2019 in London, UK. Otokar, which offers solutions with transfer of technology and local manufacturing models for land system requirements of its customers, exhibits TULPAR armoured tracked vehicle and COBRA II wheeled armoured vehicle at DSEI 2019.
---
13.09.2019 Visits - 2986
Exhibitions

MBDA and PGZ have unveiled at MSPO 2019 a Tank Destroyer armed with the Brimstone precision strike missile.
---
12.09.2019 Visits - 2205
Exhibitions

Supacat, Rheinmetall Defence and SCISYS have partnered to showcase a new capability for light forces, the 'High Mobility Integrated Fires Capability', at DSEi. The partnership demonstrates Supacat's 6×6 HMT platform mounted with Rheinmetall's MWS81 mortar system in its first integration on a light vehicle. The target acquisition and integrated fire support platform is networked with SCISYS GVA compliant platform and mission software.
---
12.09.2019 Visits - 2251