Defence Industry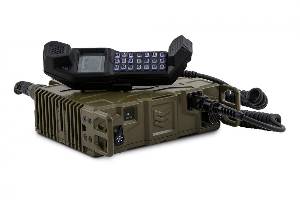 AT Communication is pleased to announce the expansion of its Tactical range of transceivers with the launch of the Sentry-H™ High Frequency (HF) SDR radio. The Sentry-H™ is built using the field proven Envoy HF SDR architecture. The Sentry-H™ gives operators a secure high-powered software defined radio designed specifically with rugged mil-spec environmental conditions at a competitive price point.
The Sentry-H™ provides high-power voice and data in a single RF unit. The Sentry-H™ delivers second-generation digital voice, uniquely available customizable frequency hopping, embedded GPS, 3G ALE, and IP/USB connectivity. The Sentry-H™ is suited for both mobile and base configurations without the need for an external amplifier. The system features a smart handset with an intuitive menu system with multiple language options and support for H250 handsets and accessories.
Key Features o ...
---
22.09.2016 Visits - 307
Defence Industry

General Dynamics Land Systems–UK has successfully completed an additional live firing test for AJAX, the British Army's new Armoured Fighting Vehicle, at a range in West Wales.
---
19.09.2016 Visits - 558
Defence Industry

The New Zealand Ministry of Defence has awarded a contract to high mobility vehicle specialist Supacat, to deliver Special Operations Vehicles – Mobility Heavy (SOV-MH) for the New Zealand Defence Forces. Supacat is also in the process of agreeing a long term support contract with the New Zealand Defence Force to support the new fleet. The new SOV-MH vehicles are based on the latest MkII version of Supacat's HMT Extenda and provide a high level of commonality with the equivalent vehicles with other Special Forces.
---
11.09.2016 Visits - 1126
Robots

The Estonian defence solutions provider Milrem aims to get their foot in the door in the UK market with their first-of-its-kind unmanned ground vehicle THeMIS. The company will be exhibiting the vehicle together with Raytheon UK at DVD 2016 in Millbrook.
---
08.09.2016 Visits - 1310
Robots
Harris Corporation robotics specialists will demonstrate the company's T7 Explosive Ordnance Disposal (EOD) robot at Raven's Challenge, the world's premier event for EOD and counter-improvised explosive device (C-IED) technology and tactics. The challenge will be held in Hua Hin, Thailand, Sept. 5-9, 2016.
---
08.09.2016 Visits - 1260
Defence Industry
CV90 is a family of tracked combat vehicles designed by BAE Systems in Sweden, with more than 4.5 million engineering hours contributing to the development of this advanced IFV. The CV90 family offers high performance and unique operational advantages.
---
07.09.2016 Visits - 1525
Defence Industry

MBDA has started production of the MMP medium-range Anti-Tank Guided Weapon, with deliveries to the French Armed Forces due to take place next year. The Fifth Generation missile is designed to defeat current and future threats and will replace the Milan and Javelin anti-tank missiles of the French military. MMP is a flexible system allowing engagement of a broad target set, rapid into action times and Lock on Before Launch, Fire and Forget mode alongside Lock after Launch, Man in the Loop engagements for collaterally sensitive scenarios.
---
04.09.2016 Visits - 1686
Defence Industry

Following the UK MoD decision to take `Jackal` and `Coyote` into its Core Fleet, Supacat is developing additional variants and conversions of its HMT family to meet wider and emerging requirements that the vehicles can fulfil . The aim of the new variants is to help the customer see how they can optimise their existing fleet and enhance capability, interoperability, commonality, efficiency and value for money.
---
02.09.2016 Visits - 1556
Defence Industry

The Javelin™ Joint Venture team, a partnership between Raytheon Company and Lockheed Martin, signed a letter of intent (LOI) with Tata Power Company Limited operating through its Strategic Engineering Division (SED), to explore co-development and production of the Javelin anti-armour missile system.
---
01.09.2016 Visits - 1450
Defence Industry

NEW ORLEANS, LA -- Textron Systems Canada Inc., a Textron Inc. company, August 19 announced the delivery of the first Tactical Armoured Patrol Vehicle (TAPV) to the Canadian Army. The Canadian Army is fielding the first vehicles to the 5th Canadian Division Support Base Gagetown and the 2nd Canadian Division Support Base Valcartier.
---
30.08.2016 Visits - 1774
Contracts

ARLINGTON, VA -- DRS Technologies, Inc., a Leonardo-Finmeccanica company, announced today that the U.S. Army has awarded it a competitively-bid indefinite delivery, indefinite quantity contract worth up to $400 million to build the new Joint Assault Bridge (JAB) system.
---
29.08.2016 Visits - 3781
Contracts

The European Organisation for Joint Armament Cooperation (OCCAR) and the Lithuanian Ministry of Defence have commissioned ARTEC GmbH to supply 88 high-protection BOXER vehicles to the Lithuanian army starting in 2017.
---
24.08.2016 Visits - 2271
Defence Industry

The first batch of RG31 mine-resistant vehicles manufactured by Denel Vehicle Systems for the UAE Armed Forces has been shipped.
---
24.08.2016 Visits - 2048
Contracts

SOUTH BEND, Ind. -- AM General has been awarded a $356,213,318 contract to manufacture and deliver 1,673 HMMWVs to the U.S. Government for further delivery to the Afghanistan National Army and Police.
---
12.08.2016 Visits - 2753
Defence Industry

Rheinmetall has submitted a comprehensive offer to extend the life and substantially upgrade the capabilities of the British Army fleet of Challenger 2 Main Battle Tanks (MBTs) in response to the Challenger 2 Life Extension Project (LEP) Request for Tender.
---
12.08.2016 Visits - 2912